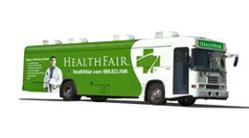 A New Weapon in the Fight Against Breast Cancer!
Tampa, FL (PRWEB) April 17, 2011
The Women's Health Initiative is bringing affordable, state-of-the-art, 3-dimensional breast cancer testing to Tampa Bay. Launched by HealthFair, America's mobile health testing leader, The Women's Health Initiative provides the latest 3D ultrasound technology comfortably and conveniently in cutting-edge mobile testing units. The Initiative's goal is to make preventive testing accessible to all women, make women aware of risk factors and unrecognized health problems, and encourage follow-up care with their personal physician. All ultrasound equipment is state-of-the-art and operated by highly trained healthcare professionals with results read by board-certified physicians.
The Women's Health Initiative is designed to not only make testing convenient, but also affordable. Breast ultrasound can cost in excess of $1,500, with an average cost based on 108 imaging centers in the Tampa Bay area of $415.46. Through The Women's Health Initiative, 3D whole breast ultrasound imaging is available for only $179.00. Comprehensive cardiac testing is also available to women during the campaign, as is thyroid, osteoporosis and colorectal cancer screening. Turn around time for a test result is minimal.
For years, mammograms have been the standard in detecting breast cancer. And while they remain an important tool, mammograms have limitations that result in 15.5 million undetected or under-diagnosed breast cancers every year. Recent advances in medical technology now offer women a second line of defense in the fight against breast cancer with advanced 3D whole-breast ultrasound. When coupled with an annual mammogram, ultrasound dramatically increases detection rates up to 91%.
Unlike mammograms, ultrasound does not compress the breast. Tests are quick, painless, and noninvasive. The breast is suspended in a warm aqueous solution and scanned while women lay covered on a padded table. The technology captures a 360-degree view of the entire breast from multiple planes using 3-dimensional ultrasound. Images are recorded every 3 degrees, producing 120 detailed pictures of each breast in under 5 minutes!
HealthFair's 3D whole-breast ultrasound technology makes it easier for radiologists to distinguish between benign cysts and solid masses, making visible breast abnormalities as small as 1mm. And because the equipment is fully automated there is no concern of operator error. A board certified radiologist interprets images and a full report is sent directly to the patient for follow-up with their physician. Breast ultrasound emits no harmful radiation, is FDA-approved, 100% safe, completely painless, and can be repeated as often as necessary.
Testing for diseases is a mission as well as an avocation for James Ekbatani. The founder and chairman of HealthFair, Ekbatani is deeply committed to educating people on the need for cardiac testing and breast cancer testing not generally offered by doctor's offices. HealthFair was founded when Ekbatani suffered a stroke at age 40 and decided in his hospital bed to help others avoid a similar fate. He formed HealthFair soon after.
On the move since 1998, HealthFair is the national leader in preventive mobile health testing for cardiovascular and other common diseases. Beginning with a single vehicle and a singular mission to make advanced life-saving tests affordable and accessible for everyone, HealthFair's health screenings have tested over 500,000 people and saved hundreds of lives.
When breast cancer forced Ekbatani's 37 year-old niece to endure a double mastectomy, Ekbatani covered the million-dollar cost of outfitting several mobile hospitals with a brand new breast imaging system to give women another arsenal in the battle against breast cancer. "Breast cancer is a disease that has hit close to home for me, and I have watched how it has affected my niece," explains Ekbatani. "In addition to the challenge of coping with a cancer diagnosis and breast surgery, women also face a host of psychosocial issues." Women who are tested will receive free educational materials and links to local resources in the Tampa Bay area.
In response, Ekbatani has launched The Women's Health Initiative, which will debut throughout Tampa/St. Petersburg before rolling out nationwide.
Tampa Bay events include May 3 at Lifeworks Wellness Center in Clearwater, May 4 and 5 at Utopia Wellness in Oldsmar, May 18 at YMCA of the Suncoast in Largo, and May 21 at Healthy Being Wellness Center in St. Petersburg.
For a full list of events and information on screening packages, log on to http://www.HealthFairWomen.com or call 866-461-4502.
###