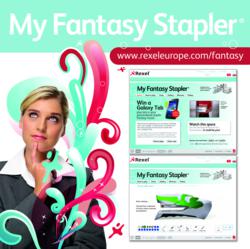 Brad Pitt, Tom Cruise, Leonardo deCaprio, Johnny Depp and Rexel Man. All great leading men, but one of them can star in a movie with you right now.
(PRWEB UK) 8 April 2011
My Fantasy Stapler at http://www.rexeleurope.com/fantasy is an online competition by Rexel Europe giving consumers the opportunity to create a fantasy stapler, and be the star in their own movie. To be in with a chance of winning, visitors can use a magical tool box of paint brushes, paint rollers, spray cans and magic wands to design a dream stapler. When submitted into the competition, each entry can be shared by email, Facebook and Twitter to obtain votes from friends and family. The entry at the end of each month with the most votes is the winner of a Samsung Galaxy Tab. And for a further chance to win, Rexel Europe will also choose the most creative entry each month.
For the ultimate stapler fantasy everyone that enters the competition can also star in a personalised movie alongside Rexel Man - the man all men want to be, and all women want to be with. Spoofing the 1990's Diet Coke ads, Rexel Man is the object of office fantasy and desire as he delivers yet another parcel of Rexel staplers and hole punches. With the excitement of Rexel Man's appearance at the lift doors, all the women in the office are hoping his latest delivery is just for them.
My Fantasy Stapler runs for 9 months from April to December across Europe in 11 languages where everyone can get involved. With 2 prizes to win each month, the rewards are great for showing creative imagination as well as a skill in obtaining votes from friends.
Rexel is a key brand within ACCO Brands, one of the largest suppliers of branded office products worldwide. With 70 years of great design and innovation, the Rexel product portfolio ranges from staplers and punches to shredders and filing products. The high quality products are perfect for all your workspace needs - whether in a large office or at home.
###