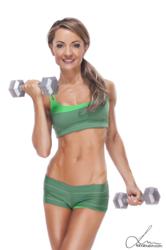 Gaspari spokesperson, Gemma Hawkesworth, says: "Alex embodies the Gaspari approach in many ways: she's focused, determined and also really cares deeply about the people she works with. We're pleased to be working with her."
(PRWEB UK) 7 April 2011
Membership of Team Gaspari is highly sought-after by professional athletes and those on the competitive sports circuit. The brand has plucked athletes such as Flex Lewis, Mark Alvisi and Ava Cowan from semi-obscurity and sky-rocketed them to stardom in the fitness industry.
Alex says: "It took me a long time to finally find my 'element' but throughout that time I've learned a lot about commitment, and pursuing my dreams. I am so excited to have been picked to work with Gaspari."
Gaspari spokesperson, Gemma Hawkesworth, says: "Alex embodies the Gaspari approach in many ways: she's focused, determined and also really cares deeply about the people she works with. We're pleased to be working with her."
Alex, originally from Northern Ireland, has been training with weights since 2001 when she became a certified personal trainer. She entered her first competition – Fitness America in Miami – in 2009, which is when she discovered her passion for competing, coming in the top 10 out of hundreds of entrants in the Bikini category.
Since then, she has competed in the WBFF Toronto (2010), coming fifth in the bikini category, and also made it through to the semi-finals in World Sports Model Britain (2010). This year, she has many competitions planned with Fitness Britain, Fame London, Fitness America and the WBFF, coached by US-based fitness and competition expert, Cathy Savage.
She is already attracting attention from the media, with modeling shots and articles in Women's Fitness, Ultra Fit and coming soon the WBFF's Fit and Firm and ExtraFit magazine. She has also been chosen as Lindsay Messina's March Model Highlight of the Month with Perfect Body Online. She will be featured as the April model in Gaspari's calendar for 2012.
Alex can be found on the Gaspari website http://gasparinutrition.co.uk/alex-wilson.html), Twitter (http://www.twitter.com/TheAlexWilson), and Facebook (http://www.facebook.com/Alexandra1974).
# # #