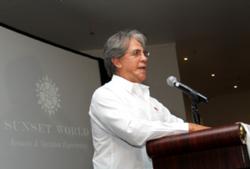 Sunset World Resorts and Vacation Experiences does not offer hotel rooms, it offers a vacation in total harmony with nature.
Cancun, Mexico (Vocus/PRWEB) April 06, 2011
With more than 23 years of experience in the tourism industry, Sunset World Resorts is steadily advancing in order to meet travelers' demands for new and better vacation experiences.
Sunset World Resorts and Vacation Experiences maintains the commitment which has resulted in more than two decades of creation: to be the best vacation experience in the Mexican Caribbean, said Orlando Arroyo, CEO of Sunset World, during the Tianguis Turistico in Acapulco.
This dynamic hotel group, leader in vacation experiences, has started the year stronger than ever with the introduction of new leadership. They continue to focus on being recognized as one of the best vacation ownerships in the world.
Sunset World Resorts and Vacation Experiences is headed by a group of Mexican businessmen who through investment and hard work have contributed to national development by promoting foreign exchange while at the same time preserving natural resources.
In 1986, the young city of Cancún was beginning to show a great deal of promise as a tourist destination in Mexico. It was then that due to visionary entrepreneur Orlando Arroyo Marroquin and the unconditional support of successful businessmen like Romarico Arroyo, Arturo Marcelin and Architect Jorge Pallas Caceres, Sunset World Resorts and Vacation Experiences was born with the acquisition of the first property on the beach, which included only a few hotel rooms.
A few years later, in 1991, hotel operations began and barely a year later, construction of the Sunset Royal Beach Resort began with 234 luxury rooms. In 1994, Sunset World acquired and began the renovation of Sunset Lagoon Resort and Marina with 161 suites.
That same year, Sunrise Travel began operations of a wide range of attractions and tourist services such as airline tickets and tours. Three years later, guests were offered a convenient service with Royal Rent a Car, offering different options and the best auto rental rates.
In 1999, the company took a major step by expanding from Cancun to the Riviera Maya with the acquisition and renovation of Sunset Fishermen Resort, a beautiful quiet hotel located in the residential area Playacar, with 101 rooms.
In 2001, the Admiral Yacht Club began operations with a vast collection of luxury yachts and in 2004 Hacienda Andalucia opened its doors, becoming the first equestrian center in Cancun of its kind. Just a year later, in 2005, the company acquired and renovated Laguna Suites Golf & Spa with 47 rooms located on the golf course Pok Ta Pok.
In 2006, the company began construction of its first Riviera Maya eco-luxury resort, Hacienda Tres Ríos, on 326 acres of pristine nature park. Ya'ax Che Spa was incorporated into each of the hotels, offering various treatments in world class facilities. In 2009, the Ocean Spa Hotel—with 185 rooms—was acquired and renovated.
Following through on their commitment to guests and members, Sunset began the total renovation project of the Sunset Royal Beach Resort with an 8-million dollar investment.
Due to modern facilities and excellent services, Sunset World Resorts and Vacation Experiences has earned prestigious awards such as the RCI Gold Crown. This award was recently given to Sunset Royal Beach Resort for the 20th time, to the Sunset Lagoon for the 15th year, to Sunset Fishermen for the 12th time, and to Hacienda Tres Ríos for a 3rd consecutive year since its opening in 2008. RCI is the leading vacation exchange club in the world.
Hacienda Tres Rios has been the recipient of 36 international awards, including TripAdvisor's Travelers' Choice 2010 for best relaxation hotel and spa in Mexico and the Caribbean. The resort also received two World Travel Awards for Best Eco Hotel and Best All Inclusive Hotel in Mexico and Central America. It was also awarded the Certificate of Excellence from TripAdvisor, the leading website in the tourism industry with over 40 million visitors a month.
Sunset World Resorts and Vacation Experiences is an innovative company that views the present and future with great optimism. The business group is committed to Mexico and to establishing the Mexican Caribbean as one of the best tourist destinations in the world. Sunset World Resorts and Vacation Experiences does not offer hotel rooms, it offers a vacation in total harmony with nature.
###