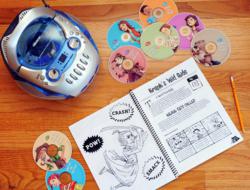 We LOVE the Krank & Chill characters. The personification of fear (Krank) and calm (Chill) is no less a stroke of genius on your part!
Charlotte, NC (Vocus/PRWEB) April 07, 2011
Informed Therapy Resources (ITR), featuring Turnaround: Turning Fear Into Freedom continues to receive praise not only from professionals but from bloggers, parents, and kids. Turnaround is designed for anxious children who struggle with many forms of anxiety, including Panic Attacks, Obsessive Compulsive Disorder(OCD), Generalized Anxiety Disorder, Social Phobia, and Separation Anxiety. It combines the clinically proven techniques of cognitive-behavioral therapy with the creative talents of individuals who specialize in working with children. The result is a treatment program that is both effective and entertaining.
Parents from around the world are purchasing Turnaround to help their children. Kids are listening to Turnaround in Canada, Australia, New Zealand, the United Kingdom, Singapore, South Africa, and of course the United States. Here are some coments from satisfied parents:
"My 10-year-old son has been blind-sided in the past few months with anxiety. Turnaround has been an answer to our prayers. We LOVE the Krank & Chill characters. The personification of fear (Krank) and calm (Chill) is no less a stroke of genius on your part! It externalizes the feelings and makes them so much easier to deal with. I listened to several CDs before sharing them with my son, and was so overwhelmed with the quality of the information and child-friendly presentation that I fought to hold back tears. Sounds hokey I know, but solid hope that my son would be spared years of anxious agony like I experienced as a child just washed over me." -- Mom from Ontario, Canada
"We ordered your program for our 9-year-old daughter. I am happy to report that your program literally changed her life. The school counselor was so impressed with her progress that she asked her if she would be willing to tell her story to other children. I truly believe that my daughter has gained life-long skills through your program, and I cannot thank you enough." -- Mother from California.
"This material is absolutely awesome. Our eight-year daughter asks me EVERY day when we pick her up from school, "Can we do Turnaround tonight?" She loves the characters and identifies closely with several of them. We all have our own journals and fill them out together as a family and discuss. This material is a life changer. For our family, the results have been both immediate and measurable. Thanks for the wonderful material." -- Father, Nashville, TN.
"Firstly, I would like to thank you for a quality course. Our daughter has made significant improvements since listening to the set of CDs only once. Her repetitive habits due to her "wacky thoughts" have reduced by an amazing 80-90%. The course allowed us to frankly discuss the issues with her without any blame being apportioned. More than happy for my comments to be used as support of an excellent resource." -- Father from Canberra, Australia
Children have also written in to express their feelings regarding Turnaround:
"I love Turnaround as much as my cat Lilly, and I really love her! Thank you soooo much!! So much that I can't even write down how much!! I'm finally going to school without feeling scary." -- 10-year-old girl from Indiana
"When I listened to Turnaround the first time, it changed my life. I use to worry all the time, Krank was in control. I'm better now and would like to make a blog about Turnaround. Could I?" -- Julie, age 8.
The Turnaround Audio Program includes:
Turnaround Program for kids (10 CDs)
Turnaround Journal, a 74 page workbook for kids
Chill Kit, relaxation guide for kids (1 CD)
Parent Guide, packed full of helpful information and techniques to help parents (2 CDs), and
A BONUS CD titled Med FAQs in also included. Med FAQs is an interview with nationally recognized Neuropsychiatrist, Dr. James Lee, offering a comprehensive discussion on the medications used to treat child anxiety is also included.
For additional information on the news that is the subject of this release or for a demo, contact us at info(at)myanxiouschild(dot)com or call ITR at (704) 208-4304 or (704) 293-2994 Please visit http://www.myanxiouschild.com to learn more about Turnaround: Turning Fear Into Freedom.
About Informed Therapy Resources (ITR):
Informed Therapy Resources (ITR) is dedicated to creating mental health treatment programs that are scientifically based, proven clinically effective, and professionally developed- using creative, eye-catching audio visual materials
David Russ, PhD, Psychologist
Dr. David A. Russ is President and a Licensed Practicing Psychologist of Carolinas Counseling Group in Charlotte, NC. He and his partners have built a busy practice with 13 clinicians.
Christopher T. McCarthy, MEd, Licensed Professional Counselor
Christopher McCarthy, MEd, is a Licensed Professional Counselor who specializes in treating child anxiety disorders, teen behavioral issues, parent-child relationship issues, and couple conflict. He co-owns Informed Therapy Resources and co-created Turnaround: Turning Fear Into Freedom.
Contact:
Informed Therapy Resources (ITR)
e-mail: info(at)myanxiouschild(dot)com
http://www.myanxiouschild.com
# # #