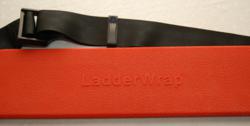 "LadderWrap is one of those simple products that people see and say, 'Wow, why didn't I think of that?' says inventor Rick Steven.
Selden, New York (Vocus/PRWEB) April 07, 2011
If your dad is a DIYer, then he probably spends a fair amount of time on a ladder. Now there's a simple gift you can give to Dad this Father's Day that will keep him safer on that ladder all year long. LadderWrap™ is a new product developed by Rick Steven, a drywall contractor based on Long Island, New York.
Ladderwrap quickly and easily stabilizes a ladder against an inside or outside wall offering a measure of protection and safety for anyone using the ladder for painting or any kind of construction or repair project. The product also offers an added benefit of protection for walls, aluminmum or wood siding by cushioning the top edge to prevent scratching or dents.
"LadderWrap is one of those simple products that people see and say, 'Wow, why didn't I think of that?' says Steven. " It just didn't make sense to me that people were using Gaffers tape, sponges, cardboard, and other jerry-rigged items to protect walls as they were painting and I just knew there had to be a better way."
LaddderWrap is made of a thick non-skid piece of orange silicon rubber with a black nylon strap and buckle and attaches to the top of any ladder to not only protect the wall from damage, but also to help prevent slippage. The adjustable strap, which runs all the way through the silicon so that it cannot be separated, enables the LadderWrap system to quickly and easily fit a wide variety of ladder types and it can be used indoors or out.
For those who may not be leaning against a wall but need to spend time on a ladder to install ceiling tiles, lighting or plumbing, the ladder wrap can be turned around so that the individual's knees can lean up against the silicon surface easing stress and pressure on knee caps and legs.
Steven, who developed LadderWrap over a three year period, says the cost to repair a damaged wall can be more than ten times the cost of a LadderWrap and 'the cost of a slip and fall could be even greater.'
While LadderWrap is already popular with painters and those in construction, Steven is now able to offer it to consumers through his website at http://www.LadderWrap.com. The product, which sells for $24.99, will also help protect against damage to boats, airplanes and helicopter surfaces which can be extremely costly to repair.
# # #