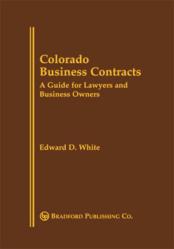 Denver, CO (Vocus/PRWEB) April 07, 2011
Drawing from over 25 years' experience as a business lawyer, Edward D. White has set out a practical discussion of areas of law relevant to conducting business, an outline of the latest legal trends, useful drafting tips, and he includes more than 65 forms for the many types of agreements needed to conduct business. The book covers entity creation, financing, sales and purchasing, technology and intellectual property, labor and employment, mergers and acquisitions, opinion letters, and sponsorships. "Colorado Business Contracts: A Guide for Lawyers and Business Owners" is an important guide for practitioners, in-house counsel, and business owners navigating today's increasingly complex business environment. The book includes a CD that contains the text of the book plus all the sample agreements and other forms in a usable format.
This book will help you fund the business, considering debt vs. equity securities and different sources of capital while complying with federal and state securities laws. You will learn how to prepare goods and services documents that comply with the U.C.C., E-SIGN, and UETA. Mr. White has included sections that will help you understand personnel policies and wage and record-keeping requirements; decide which entity best suites your client's needs and why; skillfully prepare asset purchase agreements and other M & A documents. And even learn the considerations involved in copyright assignments and how to draft fact-specific forms.
About Bradford Publishing Co.
Founded in 1881, Bradford Publishing Company is Colorado's oldest and most trusted publisher of legal information, including legal forms, electronic legal forms, law books, and statutes. Located in Denver's historic LoDo district, Bradford Publishing provides legal forms and reference materials on a variety of legal topics for attorneys, other professionals, and consumers.
Our commitment to quality is the cornerstone of Bradford's business philosophy and we regularly update the content of our books and other publications, so you can rely on the most accurate and current information available.
###