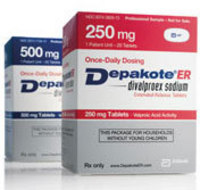 Instead of working to warn doctors and women of childbearing age about the sharply heightened risks of ingesting Depakote during the early weeks of pregnancy, Abbott has consistently and systematically sought to minimize the risk
(Vocus/PRWEB) April 06, 2011
In early 2011, RX Birth Defect Resources, a online consumer agency providing information on alleged birth defect risks from prescription medications, released a new website dedicated to investigating birth defects that may be related to use of the anticonvulsant drug Depakote. The website, DepakoteBirthInjury.com, provides information on potential Depakote birth defects including neural tube malformations (spina bifida) growth retardation, hypoplasia, cardiovascular defects, mental retardation, skeletal defects, oral-facial malformations (cleft palate and cleft lip) and fetal death. DepakoteBirthInjury.com seeks to connect families who believe their children were injured by the use of Depakote with reputable legal resources and Depakote attorneys.
DepakoteBirthInjury.com covers the controversy surrounding Depakote use during pregnancy. In December of 2009, after numerous independent studies allegedly confirmed suspicions that Depakote may be related to birth defects, the FDA released a MedWatch Safety Alert about Depakote, warning that the active ingredient in the drug (valproate sodium) may have potential to cause fetal harm. ("The Teratogenicity of Anticonvulsant Drugs", Lewis B. Holmes, M.D., N Engl J Med 2001; 344:1132-1138, April 12, 2001).
At this time, the FDA also revised the pregnancy category of Depakote to a category D drug. Classification as a category D drug means that there is "significant evidence that the drug may cause harm to a human fetus". The FDA strongly advises that all other options be explored before a woman uses a category D drug during pregnancy and that the drug only be used if the risk to the mother outweighs the potential risk to the fetus. ("Birth Defects Related to Depakote and Related Products", http://www.fda.gov, December 2009)
Despite reclassification of the drug as a pregnancy category D drug, the manufacturer of Depakote (Abbott Laboratories) continues to market to women and medical professionals. As a result, millions of women of childbearing potential may have ingested the drug since its original approval in 1983.
In 2011, the first birth defect litigation in the United States was filed against Abbott Laboratories under allegations that the makers knew about the dangers of the drug long before the FDA announcement and that they intentionally left these warnings off of the drug label. The suit was filed by a class of 26 women in St. Clair County, Wisconsin who claim that their children suffer birth defects related their use of Depakote while pregnant. Birth defects claimed to be related to Depakote in this case range from spina bifida to cardiovascular malformations. (Source: St. Clair County Circuit Court Case No. 10-L-651 & 11-L-27)
"Instead of working to warn doctors and women of childbearing age about the sharply heightened risks of ingesting Depakote during the early weeks of pregnancy, Abbott has consistently and systematically sought to minimize the risk and downplay the dangers in its product labeling of Depakote," the suit states. (Source: St. Clair County Circuit Court Case No. 10-L-651 & 11-L-27).
For families seeking more information about Depakote lawsuits in the United States or for more details about the birth defect allegations against Abbott Laboratories, visit DepakoteBirthInjury.com. Interested parties may connect with legal consult at 800.340.1100 or can complete the free claim evaluation form available online. The Depakote legal resources available via DepakoteBirthInjury.com offer free initial evaluations for families with birth injury claims. The Depakote lawyers associated with DepakoteBirthInjury.com collect no attorney fees unless the case is decided in favor of the plaintiff.
About RX Birth Defect Resources (RX BDR):
DepakoteBirthInjury.com is an RX Birth Defect Resources website. RX BDR is a consumer agency which provides comprehensive information resources and legal advice regarding the use of prescription medication during pregnancy. Their family of informative websites includes DepakoteBirthInjury.com, DilantinBirthInjury.com, DepakoteLaw.com and TopamaxBirthInjury.com. Each individual site provides an online resource center for women and families seeking more information about the specific birth defects that may be related to drug use during pregnancy. RX Birth Defect Resources connects these women and their families with reputable legal resources who can represent them in a potential class action lawsuit or individual defective drug lawsuit.
###