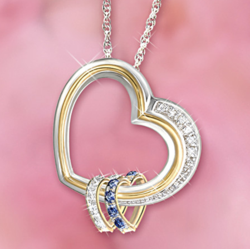 Niles, IL (Vocus/PRWEB) April 07, 2011
Mother's Day is fast approaching and The Bradford Exchange Online would like to officially announce their offerings for this Mother's Day season. Please join them in their annual celebration of moms and motherhood by shopping their wide selection of Mother's Day jewelry and gifts. Bradford Exchange jewelry has a sterling reputation for excellence, and their fine jewelry for Mother's Day always reflects their commitment to innovation, artistry and design of enduring value.
Their fine selection of Mother's Day jewelry includes unique women's earrings, bracelets, pendant necklaces, rings and watches, in distinctive styles that are perfect for the occasion of Mother's Day. So whether shoppers are looking for romantic Mother's Day rings to surprise their wives, or Mother's Day necklaces that showcase Mom's beloved children with colorful birthstones and personalized names, The Bradford Exchange Online can help. They even offer a selection of popular themes and interests ranging from Disney and animals to inspirational and sports, ensuring their customers will find Mother's Day jewelry that's a perfect fit.
"Mother's Day is one of our most exciting seasons," states Bradford Exchange employee James White, "especially when it comes to our gorgeous Mother's Day jewelry. This year, our focus is Great Gifts, Made Just for Mom, and our entire selection of Mother's Day jewelry reflects that sentiment. We want our customers to have the best shopping experience, for sure, but at the same time, they should definitely be able to find a special gift that their mom, or wife, or daughter, or granddaughter, will find extremely meaningful. Maybe they'd even like to add a personal touch with one of our personalized jewelry designs. Mother's Day has always been important to us, and it's that distinctive edge that makes it remain important."
Personalized Mother's Day Jewelry Is Available Now
The Bradford Exchange Online provides a significant benefit to its shoppers of Mother's Day jewelry - FREE personalization. Many of their fine jewelry designs, including rings and necklaces for Mother's Day, have the option to create a truly one-of-a-kind gift by adding genuine or Swarovski® crystal birthstones that symbolize a mom's children or loved ones. In addition, customers provide names of the children or loved ones that are engraved to make the ring or pendant necklace even more special. Inviting their customers take part in the creative process serves as a fine complement to their already exquisite Mother's Day jewelry designs, and the result is a personalized Mother's Day gift that any mom can be proud of.
If you are looking for elegant earrings for Mother's Day, or a sparkling bracelet, or a diamond pendant necklace, or maybe even a romantic ring with a spinning center band, The Bradford Exchange Online would like to provide you with a great place to begin your search. Offering one of the best guarantees in the ecommerce marketplace - returns for up to one full year, with free return shipping - their reputation for 100% satisfaction is highly regarded. Please accept their invitation to shop their wide selection of Mother's Day jewelry, where you will always find great gifts, made just for Mom.
###