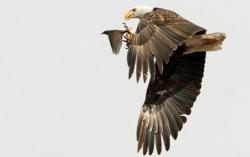 Send in your best nature shots and win prizes
Reston, VA (Vocus/PRWEB) April 05, 2011
Calling all Nature Photographers
Give Us Your Best Shot(s)!
NATIONAL WILDLIFE'S 41th Annual Photo Contest 2011
The National Wildlife Federation is now accepting entries to its 41th annual photo contest. Nature is one of the most inspiring of all photography subjects and since it's always changing, no shot is ever the same.
Cash prizes totaling more than $20,000 and other gifts will be awarded to the winners in seven categories in three separate divisions: Professional, Amateur, and Youth. Winners will be published on the NWF website and a selection will appear in the December 2011/January 2012 issue of National Wildlife magazine.

More than $20,000 in cash prizes
Two $5,000 grand prizes -- one for pro and one for amateur division
First place winner in each category receives Apple iPad -- Second place Apple iPod
75 honorable mentions
Submit up to 25 images in 7 categories; backyard habitats, birds, connecting people and nature, landscapes and plant life, mammals, other wildlife, and new this year, animal babies.
The judges are looking for striking images of nature -- on land, in the air and beneath the water's surface -- from anywhere in the world. These images may show animal behavior, portraits of wildlife in natural habitat, plant life, natural landscapes, or people interacting with nature.
To enter the contest, you need the following:

You must be at least 13 years old
Possess a valid credit card
Have your own photos in digital format
Can provide descriptions and stories behind your photos
Have an email and mailing address
$20 for each set of ten photos entered
People's Choice Award: Along with traditional judging, a People's Choice Award for the best photo will be awarded based on votes cast by the viewing audience. Anyone 13 years of age and older can vote after providing his or her name, an email address, postal code and password. The password is intended to bypass registration and continue to vote at a later time for newly entered photos.
The photo with the most votes in the final round will be named People's Choice and will appear in the December/January 2011 issue of National Wildlife and online.
Entry Deadline: July 14, 2011. Voting ends August 14, 2011 -- Winners announced in October 2011.
For more information on contest and voting rules, visit http://www.nwf.org/photocontest.
###