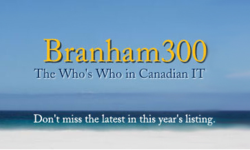 In a very short period of time, RevenueWire has emerged onto the Canadian ICT scene and solidified itself as an industry leader
(Vocus/PRWEB) April 07, 2011
RevenueWire is pleased to announce it has officially been named to the Branham300 2011 Edition. RevenueWire will appear on the following listings in this year's edition: Top 250 Canadian ICT Companies – Ranking #214; and, Top 25 Up and Comers – The emerging leaders of Canada's ICT Industry.
"In a very short period of time, RevenueWire has emerged onto the Canadian ICT scene and solidified itself as an industry leader," said Wayne Gudbranson, President and CEO of Branham Group. "Branham is proud to recognize RevenueWire as a Top 25 Up and Comer and one of Canada's leading ICT players, and we look forward to tracking its success as the company continues to grow in the e-commerce space for years to come."
Branham Group's ranking of the top 300 Canadian Information Technology (IT) companies reflects the best in the ever-changing, yet ever-present IT Sector. The Branham300—the most comprehensive listing of publicly traded and privately held IT companies in Canada—is published annually. The latest edition is available online at http://www.branham300.com and in the March/April issue of Backbone Magazine.
"It's an honour to be part of this authoritative list of the leading ICT companies in the country, and placing in the top 25 Up and Comers category is a strong indication that our business continues to grow in the right direction", said Bobbi Leach, General Manager at RevenueWire.
About Branham Group
Branham Group is a leading "Go to Market" consultancy, exclusively focused on the technology sector. We assist firms in the three critical areas to improve business performance: planning, marketing, and partnering. Branham is committed to delivering innovation by shaping data, intelligence and knowledge into focused analysis, breakthrough advice and thought leadership.
About RevenueWire
RevenueWire is an end-to-end e-commerce platform designed to grow your online business by offering key services and tools that optimize every phase of the transaction life cycle. From driving traffic via its Digital Product Affiliate Network (AffiliateWire), converting traffic with a dedicated shopping cart (SafeCart); to capturing sales with email remarketing tools and supporting the post-purchase process with professional customer support, RevenueWire offers solutions and tools for every phase of the online purchase process.
Contact:
Bobbi Leach
General Manager
RevenueWire
bleach(at)revenuewire(dot)com
# # #