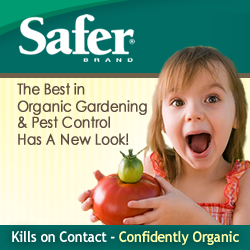 By providing consumers with an easy to navigate, interactive tool directly on our home page, we eliminate a lot of the guesswork and provide them with relevant solutions, quickly and easily.
(Vocus/PRWEB) April 07, 2011
Safer Brand, the leader in organic gardening and pest control has just unveiled their brand new website. With the sharp increase in the popularity of organic gardening, consumers are looking for relevant information and organic products that will eliminate their common garden problems, quickly and effectively. Safer Brand's website has a bountiful harvest of gardening information ranging from their Gardening 101 section to an insect library where you can track down what insect you have and find out solutions to cure that pest.
One of the new additions to the Safer® Brand website lies in the interactive tool named the 'Safer® Brand Solutions Zone'. This tool, resting on the home page, allows consumers to quickly diagnose their problem using the handy 'sliding tab' feature and after their selection has been made, quickly navigates them to a page dedicated to their problem. Then the tool recommends the best products to cure their particular issue. There is no sorting through multiple pages of products and reading the entire label, trying to find the one particular product that you need. The Safer® Brand Solutions Zone does all the work for you.
"We have found that the number one question asked by our consumers, is what product will cure their problem they are having, the Safer® Brand Solutions Zone answers these questions by hand selecting the perfect product for their problem." stated Justin Emig, Safer® Brand Category Development Associate. "By providing consumers with an easy to navigate, interactive tool directly on our home page, we eliminate a lot of the guesswork and provide them with relevant solutions, quickly and easily."
With the constant rise of social media, Safer Brand manages an active Facebook page in which they share gardening tips and have a weekly contest where their Facebook users can win FREE products. Safer Brand has incorporated a Facebook widget to their homepage that streams the activity of the community in real time! Consumers new to Safer Brand can 'like' their Facebook page directly from the Safer Brand's homepage.
One of the biggest changes you will notice when visiting the new SaferBrand.com is the wide format and beautiful colors. The new pages have beautiful hues of green, yellow and white space to provide you with a clean, fresh look where you can find your information quickly.
"It is all about trying to help the consumer find the content or product they are interested in and make the process easier. We understand that our consumers are very busy and we want to provide them with the most streamline process to get where they are looking to go. The new filters and new look were a way to help the consumers get where they are going, quickly and easily," states Justin Emig, Safer Brand Category Development Associate.
Since Safer Brand offers the largest array of organic gardening and organic pest control products on the market, having easy to follow navigation of their website would be necessary for consumers to not get confused or lost in their visit. Safer Brand has cured this with easy to follow filters and tables that will quickly navigate you to the products you are interested in.
The new SaferBrand.com is exactly what organic gardeners needed. A location where they can find gardening tips and information, while providing them an easy to navigate, portal.
For more information and to check out the new site, visit the links below:
• Safer Brand Home Page
• Gardening 101
• Safer Brand Solution Zone
• Shop Organic Gardening Products
• Follow us on Facebook
About Safer Brand:
We are Safer® brand, Concern®, and Victor Poison-Free® - three strong brands recognized as world leaders in the organic pest control, organic plant disease control and organic gardening categories! We offer the broadest and deepest selection of quality organic bug control and plant disease control products at competitive prices. Our organic gardening products are targeted to meet the varying needs of you, the consumer! So, whether you are an experienced gardener or novice, there is a product to fit each and every situation.
Safer Brand, has been trusted by consumers since 1976 and is a division of the Woodstream Corporation located in Pennsylvania.
About Woodstream Corp:
Woodstream Corporation is a long-standing, privately held company and a leading manufacturer and marketer of quality-branded wild bird feeders, rodent control products, caring control products for pets and wildlife and organic solutions for lawns & gardens.
# # #