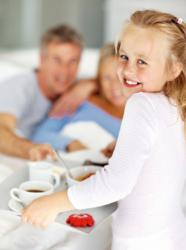 Orlando, Florida (Vocus/PRWEB) April 06, 2011
In celebration of Mother's Day, Hilton Orlando Bonnet Creek is hosting a weekend package with a picture-perfect element sure to make it onto your Facebook wall. The package, called Mother's Day Breakfast in Bed Experience, will honor mothers visiting the resort with their children, the weekend of Mother's Day, May 8, 2011.
On Mother's Day morning, children will put on chef hats as they help create and plate a special breakfast with the assistance of the chefs at Harvest Bistro. Fresh heart-shaped pancakes and homemade jams and jellies are just a few of the delicious treats that your children can help create for you.
As the resort's guest of honor, your special breakfast will include a beautiful floral bouquet that your children assembled from an assortment of freshly cut flowers.
Both the breakfast and the bouquet will be shared with Mom, waiting in bed in her guest room.
The experience is available as part of the Mother's Day Breakfast in Bed Experience package, available by visiting our website: http://www.hiltonbonnetcreek.com/mothers or by calling 1-888-353-2013, and reference SRP code P5.
Dads can alternately sign up for the experience at Hilton Orlando Bonnet Creek's front desk. The Mother's Day Breakfast in Bed Experience at Harvest Bistro will be held from 8am through 11am on May 8, 2011.
The pampering and relaxation does not stop with breakfast in bed. If you are planning on visiting our neighboring Disney theme parks, kick back and relax by taking our free Disney shuttle to and from the parks. Also at the resort, enjoy time at our lazy-river pool, or a spa experience at the adjacent Waldorf Astoria Spa by Guerlain.
Hilton Orlando Bonnet Creek is a hip oasis in the middle of Orlando's theme park magic – so close to the parks you can smell the pixie dust! The resort offers the best of both worlds: a convenient "insider" location accessible from within Walt Disney World property and the peaceful serenity of the surrounding 482-acre nature preserve. Resort amenities include 1,000 elegantly appointed rooms and suites, a 3-acre Florida-style lazy-river pool, a Rees Jones-designed championship golf course, a luxe spa by Guerlain, a full fitness center, and nearly a dozen dining and lounge options, including the award-winning La Luce by Donna Scala.
For Mother's Day Breakfast in Bed Experience reservations, please call 1-888-353-2013, and reference SRP code P5.
About Hilton Hotels & Resorts
One of the most recognized name in the industry, Hilton Hotels & Resorts stands as the stylish, forward thinking global leader in hospitality. From inaugural balls and Hollywood award galas to business events and days to remember, Hilton is where the world makes history, closes the deal, toasts special occasions and gets away from it all. The flagship brand of Hilton Worldwide continues to build upon its legacy of innovation by developing products and services to meet the needs of tomorrow's savvy global travelers while more than 144,000 Team Members shape experiences in which every guest feels cared for, valued and respected. Today, the Hilton Hotels & Resorts portfolio includes more than 540 hotels in 76 countries and the brand remains synonymous with "hotel." Access the latest Hilton news at http://www.hiltonglobalmediacenter.com or begin your journey at http://www.hilton.com. Social media users can engage with Hilton at http://www.twitter.com/hiltononline,http://www.facebook.com/hilton and http://www.youtube.com/hilton. Hilton Hotels & Resorts is one of Hilton Worldwide's ten market-leading brands
About Hilton Worldwide
Hilton Worldwide is the leading global hospitality company, spanning the lodging sector from luxurious full-service hotels and resorts to extended-stay suites and mid-priced hotels. For 92 years, Hilton Worldwide has been offering business and leisure travelers the finest in accommodations, service, amenities and value. The company is dedicated to continuing its tradition of providing exceptional guest experiences across its global brands. Its brands are comprised of more than 3,700 hotels and 610,000 rooms in 82 countries and include Waldorf Astoria Hotels & Resorts, Conrad Hotels & Resorts, Hilton Hotels & Resorts, DoubleTree by Hilton, Embassy Suites Hotels, Hilton Garden Inn, Hampton Hotels, Homewood Suites by Hilton, Home2 Suites by Hilton and Hilton Grand Vacations. The company also manages the world-class guest reward program Hilton HHonors®. For more information about the company, visit http://www.hiltonworldwide.com.
###