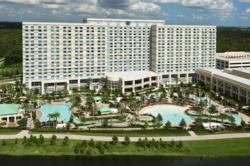 With the help of the PURE system, we can provide supplemental filtering of the air in guest rooms, creating additional comfort for those travelers who suffer from allergies and asthma.
Orlando, FL (Vocus/PRWEB) April 07, 2011
Travelers to Orlando can breathe a little easier knowing that Hilton Orlando Bonnet Creek, the newest resort hotel on the doorstep of Walt Disney World theme parks, has added 29 "PURE guest rooms" that provide an allergy-friendly environment.
"As a new resort, we are innovative in our approach to guest satisfaction," said Peter Kacheris, managing director of Hilton Orlando Bonnet Creek. "With the help of the PURE system, for instance, we can provide supplemental filtering of the air in guest rooms, creating additional comfort for those travelers who suffer from allergies and asthma."
The PURE concept utilizes special purification techniques whereby each room is treated systematically to remove allergens and irritants from all surfaces, fabrics and air flow. These cutting-edge PURE rooms provide hypo-allergenic hotel accommodations for travelers suffering from allergies or asthma. The rooms provide an environment that improves breathing and sleep for hotel guests, whether they have allergies or not.
As part of the rigorous conversion process designed by PURE Solutions, air-handling units are prepared and sanitized and then equipped with the company's specially made Tea Tree Oil cartridge. PURE Tea Tree Oil is an all-natural antiseptic and disinfectant that maintains the sanitary conditions created during the initial conversion process. To maintain these ideal conditions in the room, a state-of-the-art air purification system is installed, creating air quality that averages four times cleaner than the threshold necessary for asthma patients. This system is classified by the FDA as a Class II medical device. Special micro-fiber, hypo-allergenic pillow cases and mattress covers are used to reduce allergens.
"Statistically, one-third of travelers report having allergies or traveling with family members who have allergic reactions," said Brian Brault, chief executive officer of PURE Solutions. "PURE is committed to offering the best air quality for any hotel guest, allergy sufferers or not. We're proud to offer PURE rooms at Hilton Orlando Bonnet Creek."
Fodors travel guides calls Hilton Orlando Bonnet Creek a "pristine, über-resort … the most ambitious to open in Orlando" in years. The hotel transcends the traditional travel experience with innovative dining options, memorable lounges, and world-class recreation, including a three-acre lagoon-style pool with a lazy river and water speed slide. A recreation team provides family activities throughout the day and evening, including "Dive-In Movies" poolside.
Dining is a particular point of pride for the resort, including the Italian favorite La Luce by famed Napa Valley chef and restaurateur Donna Scala, which Orlando magazine called the city's best new restaurant. The magazine's food critic Joseph Hayes says La Luce has put the hotel on Orlando's "culinary map." And it's not just the restaurant's "tasty and quirky" (his words) regional Italian fare, but also the service: "it's as crisp as the bed linens in the hotel upstairs," he raves.
Speaking of the linens, the 1,001 elegantly-appointed guest rooms and suites are part of the attraction, each featuring modern amenities and the signature Hilton Serenity Bed. Travel advice web site Oyster.com calls the resort "modern" and "sleek" with "some of the most peaceful rooms on Disney property."
The views here are of note, including postcard-perfect vistas of the pool "lagoon," Waldorf Astoria Golf Club, Bonnet Creek nature preserve, and, of course, Walt Disney World. With these stellar views of Disney theme parks, it's clear that this hotel is so close to theme park magic, you can feel the magic.
To reserve a PURE allergy-friendly room at Hilton Orlando Bonnet Creek, visit http://www.hiltonbonnetcreek.com.
About PURE Solutions North America
PURE Solutions' innovative system for hotels and conference centers provides PURE rooms, an allergy-friendly room which results in indoor environments that have been treated to remove up to 98% of bacteria and viruses. The PURE room concept utilizes state-of-the-art purification techniques whereby each room is treated comprehensively to remove allergens and irritants from all surfaces, fabrics and air flow. Nearly 200 of the nation's top hotels have installed PURE to date and this system is being adopted at a rapid rate by hotels worldwide. PURE Solutions received the 2008 Innovator Award from The School of Hotel Administration at Cornell University. For further information, see http://www.pureroom.com.
About Hilton Hotels & Resorts
Hilton Hotels & Resorts is the stylish, forward-thinking global leader of hospitality that welcomes guests in more countries than any other full-service hotel brand. The Hilton brand currently includes more than 530 hotels and resorts in 76 countries, and plans to serve travelers in 80 countries by the end of 2011. By offering innovative products, services and amenities, Hilton Hotels & Resorts enables travelers to be at their best 24/7, whether traveling for business or leisure. Start your journey at http://www.hilton.com. Hilton Hotels & Resorts is one of Hilton Worldwide's ten market-leading brands.
About Hilton Worldwide
Hilton Worldwide is the leading global hospitality company, spanning the lodging sector from luxurious full-service hotels and resorts to extended-stay suites and mid-priced hotels. For 92 years, Hilton Worldwide has been offering business and leisure travelers the finest in accommodations, service, amenities and value. The company is dedicated to continuing its tradition of providing exceptional guest experiences across its global brands. Its brands are comprised of more than 3,700 hotels and 610,000 rooms in 82 countries and include Waldorf Astoria Hotels & Resorts, Conrad Hotels & Resorts, Hilton Hotels & Resorts, DoubleTree by Hilton, Embassy Suites Hotels, Hilton Garden Inn, Hampton Hotels, Homewood Suites by Hilton, Home2 Suites by Hilton and Hilton Grand Vacations. The company also manages the world-class guest reward program Hilton HHonors®. For more information about the company, visit http://www.hiltonworldwide.com.
###