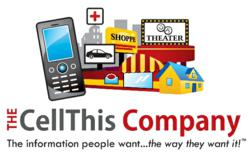 Merchants will not be charged any "per coupon" fee, and their customers will pay them directly.
Marion, IL (Vocus/PRWEB) April 07, 2011
The CellThis Company has announced it will launch a new coupon distribution service that will be priced at far less than most other coupon services. Merchants, service providers and others will be able to offer a different coupon each day of the month for a flat fee of $30.00 per month.
Recognizing that most businesses cannot afford coupon services that often charge fees equal to 50% of the price of the coupon, and convinced that a coupon service should be universally available, no matter the size of the city, The CellThis Company, a leader in providing innovative ways of generating coupons and conducting mobile marketing, will introduce a coupon service that any size or kind of business can afford.
The new service will allow customers to automatically create, publish and upload coupons to the CellThis coupon website through simple "point and click" actions. Customers will also be able to change their coupons daily if they want to do so. The company will also offer optional services that allow merchants and others to simultaneously advertise multiple products or services.
Other mobile marketing/lead generation features included in the monthly fee are:

The ability to automatically send text messages in response to customer calls
The ability to receive instant notification of customer inquiries
Built in lead tracking and reporting
Automatic text to speech conversion
A hosted website, "follow me" phone numbers, voicemail and more
The CellThis Company's unique marketing method combines voice, text and the internet to provide merchants and other businesses with an affordable, cost effective, results effective way to distribute coupons and market goods and services. Among the innovations of its patent pending program is a unique feature that automatically creates a new web page each time a different extension is activated.
###