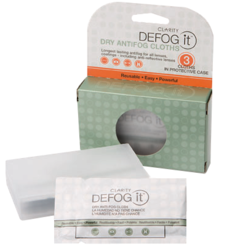 "These men and women always wear protective eyewear in their dangerous work. In the heat and humidity of Savannah, Georgia, fog can be a problem -- and Defog it can prevent it,"
Valley View, Ohio (Vocus/PRWEB) April 07, 2011
The recent North American Tree Climbing Championships in Savannah, Georgia, brought together 67 of the continent's most skilled arborists. Usually these intrepid climbers trim trees to beautify landscape or clear power lines. On this weekend, their skills were judged for speed, accuracy and style. Safety is a priority, safety eyewear is mandatory, and Defog It antifog was given to every competitor to assure a clear, safe view. A Defog It short film documents the event.
"These men and women always wear protective eyewear in their dangerous work. In the heat and humidity of Savannah, Georgia, fog can be a problem -- and Defog it can prevent it," said John Swett, Vice President of Sales and Marketing at Nanofilm, maker of Defog It.
"These arborist professionals are incredible athletes and artists," added Lynn Lilly, a member of the Defog It film crew. "I'm glad we could capture it on video to share with the world."
First used by the military worldwide, Defog It is the proven safety choice in the toughest workplace environments where heat, cold, humidity and exertion cause fogged safety eyewear. It's used in forestry, utilities, pulp and paper, mining, chemical processing, law enforcement and other industries. The product is safe and effective on safety glasses, goggles and faceshields.
Rigorous lab testing confirms the real-world high performance of Defog It antifog. In one test, a lens treated with Defog It was held over constant hot steam for 60 minutes without fog forming. Similar products failed in as little as 5 minutes. In another test, lenses coated with Clarity Defog It were moved between cold and hot environments 100 times without fog forming.
Defog It is available as a liquid or reusable cloths. More information, pricing and performance videos are available at http://www.defogitworks.com or by calling 1-888-ENDS-FOG.
Nanofilm, founded in 1985, is the maker of Clarity Defog It and a global optical leader in lens care and coatings. Millions of people around the world use Nanofilm products, including Clarity Clean It™, Clarity Defog It™ and other lens care products, as well as nanotechnology-enabled coatings.
# # #