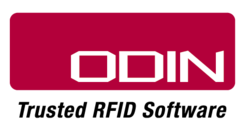 Four out of the top five medical device companies use ODIN's software, the leading medical institutions in the world use ODIN's software, and three out of the top four global banks are now using ODIN RFID solutions. That says it all
Ashburn,VA (PRWEB) April 06, 2011
ODIN, the leading global provider of RFID software and RFID solutions today announced the successful completion of their 500th RFID project. The project was an IT Asset Tracking solution for one of the world's largest financial institutions based on ODIN's Intelligent Asset Management (I AMTM) RFID software. I AMTM is the only RFID-based Asset Tracking solution designed to ensure 99%+ read accuracy, while scaling to thousands of RFID read points and ensuring easy integration into existing systems of record such as Maximo, Oracle, AssetCenter and other ITAM programs. ODIN's RFID software is specifically designed for Asset Tracking, Healthcare and Social Media, and has been built on ODIN's foundation of solid physics, which ensures high reliability and accuracy.
"Our 500th major RFID project is another milestone that sets ODIN apart in the RFID industry. Most of our clients are Fortune 100 companies who need unparalleled expertise, scalable and proven software and worldwide support." commented Patrick J. Sweeney, ODIN's founder. "With the acquisition of Reva in December 2010 and expansion into more European countries, we have more than $50 million invested in our RFID software and solutions to make them work better and more accurately than any other RFID software in the world."
"The proof isn't in what we say – it is in what our clients say with their repeat business. Four out of the top five medical device companies use ODIN's software, the leading medical institutions in the world use ODIN's software, and three out of the top four global banks are now using ODIN RFID solutions. That says it all." commented Grant Wagner, ODIN's worldwide leader of sales.
ODIN develops RFID solutions in three primary areas:

Healthcare RFID – including RFID specimen tracking for labs, medical loaner kit tracking, RFID-enabled medical cabinets and other areas of innovation soon to be announced.
I T Asset Tracking – ODIN's Intelligent Asset Management (I AMTM) is the only RFID-based asset tracking software designed from the RFID readers up to ensure high accuracy, scalability to thousands of RFID read points and simple integration to existing systems of record.
RFID based Social Media – ODIN's Facebook-ready RFID systems are specifically designed for marketing, events and entertainment/sports venues. ODIN has dedicated a team of software developers from its Boston office to working side-by-side with the Facebook team to ensure that the very first Facebook-ready RFID software is simple to use while driving tangible value for marketing by adding a much deeper level of segmentation to the Facebook platform.
ODIN's RFID Partner Program also offers a suite of foundation software for RFID integrators, resellers and VARs, including:
EasyEdge™ - the world's only RFID Operating System which sits on the RFID reader and provides intelligence on the device, much like the iPhone brought intelligence to mobile phones. With EasyEdge™ many RFID deployments can be stood up without the use of RFID middleware.
EasyTAP™ - the tag acquisition processor (TAP) based on technology acquired through the acquisition of Reva is an appliance or VM-based software solution that provides a highly sophisticated RFID location and correlation engine. The EasyTAP™ has nearly a dozen patents protecting its proprietary algorithms and allows integration partners to easily install and manage hundreds of read points.
EasyMonitor™- the hosted monitoring and management solution for RFID devices. EasyMonitor™ enables remote monitoring and management and is deployed at hundreds of locations around the globe. From a central network operations center a single person can monitor and manage the health and state of thousands of readers.
ODIN was founded in 2002 by a serial technology entrepreneur who hired the Director of MIT's Auto-ID center, the inventor of the electronic product code (EPC) RFID protocol in use today and adopted as the ISO standard (ISO 18000-6c). ODIN's early work focused on the physics of what made RFID work accurately and consistently. ODIN replicated the MIT lab in 2003 and began expanding its capabilities. In 2004 ODIN released the first public RFID Benchmark – the head-to-head comparison of RFID hardware. Since 2004 ODIN has completed more than 30 RFID Benchmarks. Having the world's leading RF Engineers in the ODIN lab working day in and day out with ODIN in-house development team allows ODIN to produce software based on the very deep inner workings of RFID devices.
About ODIN:
ODIN is the leader in RFID software and solutions for healthcare, government, IT Assets and social media. ODIN's software is deployed on over 3,500 devices worldwide providing 99.9% accuracy based on physics of RFID. ODIN's EasyEdge™ software is the only true operating system – the heartbeat of any RFID deployment. The EasyTAP™ software appliance with more than ten patents for its innovative algorithms is the central nervous system for RFID. Together they increase accuracy and scalability while reducing integration and support costs. Global corporations in fifty countries leverage ODIN's expert engineers and patented RFID software to achieve accuracy, speed, and visibility for their RFID deployments.
What makes ODIN's software and solutions so accurate and easy to deploy is leveraging the scientists in ODIN Labs who test every major RFID device before it hits the market. ODIN Labs publishes the RFID Benchmark Series™ and RFID Pricing Guide™, the industry's most referenced performance and price analyses of RFID equipment. ODIN serves clients from world headquarters in Ashburn, Virginia, and other offices in Boston, MA, Dublin, Ireland and Budapest, Hungary with full-time staff in Toulouse, France. For more information, visit our website http://www.ODINRFID.com
###