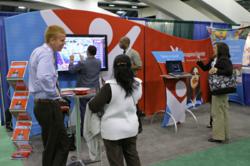 Visiting a school is one of the best ways for educators to evaluate innovative technology solutions
Provo, UT (Vocus/PRWEB) April 06, 2011
Educational software company Imagine Learning will showcase its award-winning language and literacy program, Imagine Learning English, at the upcoming NSBA conference held April 9–11 in San Francisco. The company will also host a site visit, where educators can see firsthand how Imagine Learning English helps schools engage students and accelerate progress.
The National School Board Association conference is one of the largest of its kind, drawing school board members, superintendents, and other district administrators from across the country. In 2010, the NSBA conference hosted educators from 1,470 school districts. These educators represented nearly a third of the nation's public school enrollment.
The 2011 NSBA conference will focus on 21st century skills, as well as strategies for maximizing school and district budgets in times of limited funding.
Conference attendees can visit booth #1238 to experience Imagine Learning English and play an interactive touch-screen game from the program. Imagine Learning is also hosting a site visit to a nearby elementary school, where attendees will be able to watch students use Imagine Learning English and learn how school administrators are successfully implementing the program and boosting student achievement.
"Visiting a school is one of the best ways for educators to evaluate innovative technology solutions like Imagine Learning English," said Imagine Learning Area Partnership Manager Ben Eyre. "Conference attendees can learn a lot at our booth in the exhibit hall, but visiting a school and seeing students engaged with learning on a computer helps administrators see how Imagine Learning English can help with their district's specific challenges."
Imagine Learning sponsored a similar site visit during the recent ASCD conference, also held in San Francisco. Attendees visited a nearby school, observed students using Imagine Learning English both in a computer lab and a classroom setting, and spoke with the school administration.
"Imagine Learning English exemplifies the key points of this year's NSBA conference. It helps school districts maximize the use of their funds while at the same time delivering an adaptive curriculum that gives students the 21st century skills they need to create successful futures," said Julie Moselle, executive director of marketing for Imagine Learning.
The site visit to Downer Elementary School is scheduled for Monday, April 11. Attendees will meet at booth #1238 at 9:30 a.m. To reserve a space for the site visit, contact Imagine Learning representative Ashley Arias at 801-885-7082 or at ashley(dot)arias(at)imaginelearning(dot)com. Transportation will be provided. Space is limited.
About Imagine Learning
At Imagine Learning, we're passionate about bringing language and literacy instruction to the students who need it most. That's why we used state standards and scientifically based research to develop Imagine Learning English, an innovative software program that uses first-language support, continual assessment and differentiated instruction to meet the needs of four key student populations: English learners, struggling readers, students with disabilities and early childhood education students. Imagine Learning English gives students one-on-one instruction, continual assessment, and scaffolded support while keeping teachers abreast of student progress through real-time reports. Visit our website at http://www.imaginelearning.com to find out how we're giving students, parents and teachers essential tools for language and literacy development.
# # #