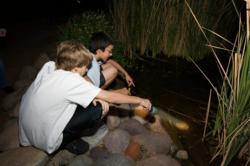 A bit of sunshine is just what your family needs this spring and summer. And Tempe, Ariz. is the perfect destination for family fun in Phoenix.
(Vocus/PRWEB) April 07, 2011
A bit of sunshine is just what your family needs this spring and summer. And Tempe, Ariz., is the perfect destination for family fun in Phoenix. There are so many things to do, including water parks, new exhibitions at The Phoenix Zoo and SEA LIFE Arizona aquarium, flashlight tours at Desert Botanical Garden and paddleboarding on Tempe Town Lake. And, parents will appreciate that Tempe's variety of hotels, from suite properties to upscale retreats, will meet every vacation budget.
Here are a few ideas to help busy parents plan their trip. For more information, visit the Tempe Tourism Office or call 800-283-6734.
Water Parks for Splashing
Splash Playground at Tempe Beach Park will open on May 7. This free park lets children experience a small storm, even on a sunny day, with light mists of water, waterfalls, rushing streams and more interactive fun.
Big Surf, America's original water park, will open for the season on May 14. Activities at Big Surf include the 2.5 million gallon wave pool, thrilling water slides and Captain Cook's Landing for the smallest splashers.
The water park attractions at Golfland/Sunsplash will also open for the season on May 14. Families can play video games or laser tag in King Ben's Castle, play miniature golf and ride bumper boats. And at Sunsplash, water-filled fun includes racing down the Bonzi Speed Slides, rafting down Thunder Falls or relaxing along the Endless River.
New Exhibits at The Phoenix Zoo and SEA LIFE Arizona
The Phoenix Zoo in Papago Park has been voted one of the nation's top 5 zoos for kids and now it's adding another incredible experience. The "Orang-Hutan: People of the Forest" exhibit opens April 11 at The Phoenix Zoo. This exciting $3.7 million project will create two outdoor yards, two dayrooms and four bedrooms for the orangutan family at the zoo, which includes matriarch Duchess, her daughter Bess, granddaughter Kasih, and Kasih's father, Michael. Guests will be able to view the orangutans in climate-controlled viewing areas that provide a cool place to see training sessions with the keepers and up-close views of these intelligent animals.
Creepy crawly clawed creatures of the sea have arrived at SEA LIFE Arizona, an interactive aquarium located in Arizona Mills mall. The new exhibit, "Claws!", features five tanks that spotlights a variety of fascinating crustaceans, including Japanese spider crabs, the world's biggest species of crabs, which can grow to more than 12 feet across. "Claws!" also includes coconut crabs, named for claws strong enough to crack coconuts, and fiddler crabs.
The SEA LIFE Arizona aquarium has more than 30 display tanks in 12 different habitat zones, making homes for more than 5,000 sea creatures.
Paddleboarding at Tempe Town Lake
The City of Tempe has just introduced stand-up paddleboards to Tempe Town Lake. Visitors can rent a paddleboard from Tempe Boat Rentals and after a quick lesson, they'll be ready to try this fun sport for themselves. Kayaks, pedal boats, hydrobikes and other boats are also available.
Discovering the Desert by Flashlight
One of Tempe's most unique attributes is its location in the heart of the scenic Sonoran Desert. The whole family can safely explore our desert landscape by the light of the moon…and a flashlight too. The Desert Botanical Garden is offering Garden Flashlight Tours Saturday nights in May and September and Thursday and Saturday nights in June, July and August from 7-9 p.m. Observe how the desert comes to life when the sun comes down. You might see nighthawks, snakes and rare night blooming flowers.
Theatre and History for Young Audiences
Childsplay, Arizona's professional theatre company for young audiences, brings their excellent performances to the Tempe Center for the Arts throughout the year. The final production of the stellar 2010/2011 Childsplay season is "The Borrowers," an enchanting tale suited for children age seven and up. Tickets are still available for shows from April 30 to May 22, 2011.
Children can learn about the history of Tempe and have fun at the same time during themed "Wild Wednesdays" at the Tempe History Museum. These free, fun-filled events include crafts and other fun activities from 10 a.m. to 3 p.m.on Wednesdays in June and July.
About Tempe Tourism Office
The Tempe Tourism Office is a non-profit organization devoted to marketing Tempe, Arizona as a desirable visitor and group destination site. The Tempe Tourism Office's mission is to provide visitors, media professionals and meeting planners with information on Tempe hotels, Tempe restaurants, Tempe entertainment and local points of interest. To learn more about Tempe, Arizona please call 480-894-8158 or 800-283-6734 or visit our Web site, http://www.tempetourism.com.
###