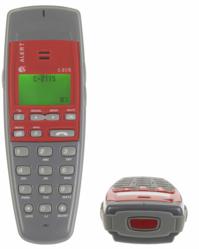 We believe the C-2115 is the ultimate in terms of a multi-function communications solution for lone worker safety
(Vocus/PRWEB) 8 April 2011
The C-2115 DECT handset from Call Systems Technology (CST) has been developed to give the highest possible level of security to lone workers. The unit's multiple alarm functions ensure that support staff are instantly aware and can respond quickly to at-risk personnel, in the event of an emergency.
A large, easily accessible button on the top of the handset raises an alarm, when the user chooses and is capable. In other circumstances, a man down alarm automatically alerts supporting staff if the lone worker falls to the floor. A pull-chord alarm attached to the handset helps prevent the handset being snatched away and provides an alternative to the main button alarm in an emergency. The motion alarm sends an alert to support staff if the handset is motionless for a predetermined period of time.
Another key safety feature is the CST handset's special positioning technology, which locates personnel precisely at any time. Positioning beacons, sited according to the facility's need and design, log the location of the person using the handset as they move from place to place.
The positioning technology also allows individual handsets to work as keyless security access fobs. This means staff with the specified handset can open or close secure doors and access restricted areas, depending on the date, time or temporary authorization they have. A handset's access authority can be turned on or off remotely, from central control.
The C-2115 is a fully functioning DECT phone which also features text messaging. The handset's screen has a reversible display so that staff can flip the message over to make it easily readable when the phone is still attached to the belt clip.
"We believe the C-2115 is the ultimate in terms of a multi-function communications solution for lone worker safety," says Bruce McNair, sales director of CST.
For more information visit the CST stand at the Lone Worker Conference 2011, freephone Call Systems Technology on 0800 389 5642 or 020 8381 1338, email the company at sales@Call systems.com or visit the CST website http://www.Call-systems.com.
For more news about CST visit the press office at http://www.publicityworks.biz
LINKS:
Visit the CST website at http://www.Call-systems.com
Call Systems Technology (CST) is based in Edgware, London and supplies an award-winning range of specialist communications and software products. The company has introduced many technology innovations which have enhanced service, safety and efficiency.
The CST portfolio ranges from simple pager systems to sophisticated packages for improved facilities management. CST's award-winning Call range includes CustomerCall™, PageCall™, WaiterCall™, StoreCall™, ButlerCall™ and EasyCall™.
Call Systems Technology offers a range of lone worker and staff attack systems from the leading product manufacturers in this specialised area, including Bosch and COBS.
# # #