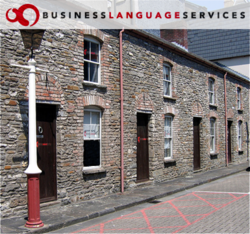 Adam Burman MD. states we are very pleased to have located to our new premises in Cardiff. The successful move has in turn facilitated an increase in business.
(PRWEB UK) 8 April 2011
Business Language Services Ltd. (BLS), one of the UK's leading suppliers of translation language services, is celebrating its first year of success in Cardiff. The company moved thirty miles from Abergavenny to the Welsh capital in March 2010.
Business Language Services Ltd. (BLS) upgraded to new offices in Cardiff last year after twenty years based in Abergavenny, Monmouthshire. This was a logical progression for the language service provider; the ongoing business expansion programme called for a presence in the Welsh capital.
Business Language Services Ltd. (BLS) was established in 1990 as a family company offering language services and specialising in language training, particularly ESOL (English for Speakers of Other Languages). It soon branched out into translation and interpreting and has gone from strength to strength as the industry has developed.
Following a change in management in 2008, BLS has overhauled its image and reached new levels of success, always maintaining the focus on quality and customer satisfaction. The company is proud of its Welsh roots and specialises in English to Welsh and Welsh to English translation. In spite of difficult recessionary times, the company has gone from strength to strength and has continued to strive during this period.
The company took over the new offices in a prime location in Cardiff city centre in March 2010, offering better accessibility and improved facilities for customers and staff alike. This business expansion coincided with the launch of a newly designed website to complement the dynamic re-branding.
These new offices are housed in a row of historical terraced cottages dating back to the 1830s. They were built by the Marquis of Bute for labourers working on the construction of Cardiff docks. The courtyard is the last remaining of its type in Cardiff. Although the interior is modernised with state-of-the-art facilities, the exterior maintains the original stonework and is much admired by tourists to the city.
BLS is now in a position to hold multiple courses on site, and as such has expanded its range of foreign language training courses with new intensive training formats and a quick introduction to Office Welsh. This course, in particular, has received a great deal of interest from local companies keen to promote the language among their staff. The course is delivered over 10 hours and is designed to offer workers the confidence to express themselves at a basic level in Welsh, be it answering the phone or welcoming visitors to the office.
In its first year in Cardiff, BLS has been granted corporate membership of the Institute of Translation and Interpreting (ITI) and has extended its Approved Centre status to offer OCR (Oxford Cambridge and RSA Examinations) qualifications. As a full member of the Association of Translation Companies (ATC), BLS is also authorised to offer certified translation services, regularly helping individuals meet the requirements of the Home Office or foreign authorities to assist in civil registration processes.
Since 1990, Business Language Services Ltd. (BLS) has been helping companies break down language and cultural barriers and has gained a reputation as one of the UK's leading language service providers to professionals worldwide. BLS provides the full range of language services including translation services, interpreting services, language and cultural training, typesetting, proofreading, voiceovers, foreign telemarketing and language consultancy.
###