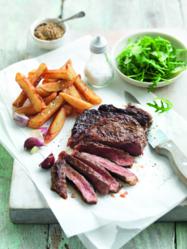 Who can resist a tender, juicy steak? No wonder it's the nation's favourite red meat and with the growing interest in cooking, particularly amongst men, Kevin Gould's feature is essential reading for committed carnivores
London (Vocus/PRWEB) 6 April 2011
Award winning food and drink writer Kevin Gould shares his carnivorous secrets on how to find and cook the perfect steak, in the May issue of Sainsbury's Magazine, instore today.
Kevin, author of Dishy, (Hodder & Stoughton) and Loving And Cooking With Reckless Abandon (Quadrille), is a new contributor to Sainsbury's Magazine, and is famous within foodie circles for his passionate stance on what we eat and why we eat it. Within the feature, Kevin introduces readers to the seven best places to eat steak in the UK, provides an overview of the best cuts of steak, and the difference between prime cuts from cows fed on grass, grain and beer. He also gives an introduction to the various cuts available in store at Sainsbury's for the novice steak cook.
Steak is currently having a popularity revival. With most households looking to cut costs, the latest Mintel report suggests that steak has seen a rise in uptake as a substitute for eating out, viewed as a rare treat during the recession. The decline of the 'family' dining occasion has also been a major factor in our altering tastes. This change in family dynamics, and growing interest in cooking, particularly in men, has resulted in a long-term shift in beef consumption, away from roasts and towards steaks and mince. In fact, growth of 16% to £4.1 billion is forecast for the red meat market over 2010-15, with beef being the favourite red meat of Britain, eaten by nine out of ten adults in the UK.
Trends in eating out and the increased sophistication of our tastebuds have also seen gourmet steakhouses opening up across the country, thanks to the increase in variety and quality of meat in our shopping aisles.
Three quarters of meat-eaters enjoy eating red meat, whilst around two in three adults see it as part of a balanced diet, highlighting the fact that red meat is seen as both a menu staple, and an indulgence, depending on the cut chosen.
(Source: Mintel – Red Meat – UK – October 2010).
Helena Lang, Editor of Sainsbury's Magazine, says, "Who can resist a tender, juicy steak? No wonder it's the nation's favourite red meat and with the growing interest in cooking, particularly amongst men, Kevin Gould's feature is essential reading for committed carnivores."
Sainsbury's Magazine, which is published by Seven, the award-winning customer engagement agency, is now the UK's most widely read, paid-for title. With just under 4 million readers every month (NRS), Sainsbury's Magazine is the only magazine to have won the covetable PPA Customer Magazine Award at the annual Periodical Publisher's Association (PPA) Awards three times.
Sainsbury's Magazine's unique mix of food and lifestyle content offers its readers recipe inspiration from the magazine's renowned food team plus ideas for their homes, families, health and holidays. At only £1.60, the monthly glossy is incredible value, with tips and advice from the best writers and contributors, including a monthly column from keen cook and busy mum Fiona Gibson, a monthly Q&A with top psychotherapist Elizabeth Meakins and recipes from the world's best chefs and drinks experts, including Nigel Slater and Olly Smith.
–ends–
Contact at Seven:
Shareena Ali
PR
Seven
3-7 Herbal Hill
London
EC1R 5EJ
Tel: 020 7775 5549
Email: shareena(dot)ali(at)seven(dot)co(dot)uk
About Seven

Seven is an award-winning multichannel strategic content agency.
Experts in creating intelligent, relevant and effective content across multiple channels, including magazines, websites, social media, interactive ezines, video, iPhone and iPad apps.
Clients of Seven include Virgin, Sainsbury's, CIMA, English Heritage, Grant Thornton, Guardian Media Group, Lloyds Banking Group, New Look and Waterstone's.
For further information: http://www.seven.co.uk or contact Shareena Ali, PR, shareena(dot)ali(at)seven(dot)co(dot)uk 020 7775 5549.
###