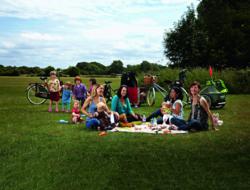 Our readers come from a vast range of backgrounds; what brings them together is their shared lifestyle choices.
London (Vocus/PRWEB) 6 April 2011
The grass really is greener for those who swap life in the big smoke for one in the country, according to four Sainsbury's Magazine readers who recently moved to Cambridge. In the latest issue of Sainsbury's Magazine, instore today, the four mums, who met in a pregnancy yoga class, reveal how they became friends and moved their families en masse to the country, for a better standard of living.
Disillusioned with the pace of life, and in desperate need of more space for their growing families, Isa Hooper 39, Chris De Vries 33, Gerry Robinson 35, and Laylah Hope 32, met, five years ago at a pregnancy yoga class. Despite having differing personalities, they bonded over their pregnancies, continuing to meet, after the births of their babies, all delivered in a two-week window. The idea to move was born not long after this.
Calling themselves 'The Thursday Club', the mutual lack of sleep, and obvious support system helped the four women grow very close - enough to decide to migrate together. Their partners, eager for a less stressful lifestyle, and a better choice of school for their growing families, were very co-operative, however work commitments and family meant that they needed to stay within easy reach of London.
After a year of searching, the families decided on Cambridge for its' balance of countryside and cosmopolitan living. Gerry, the first to settle, moved to the area in autumn 2009, followed by Isa, then Laylah and finally Chris, each settling within a ten minute drive of each other, so that they could continue meet up most days.
Isa Hooper, 39, said; "There were no guarantees it would work out, but it has brought us even closer together. We need and rely on each other more, and that could have caused friction. Instead, I feel this incredible unity between us. We've made a big step together, pooled resources and that has been extremely bonding. Perhaps if my family had moved on our own, I would have felt lonely, but doing it with the others made it an exciting adventure".
The four women are often spotted together in Cambridge, either cycling on their Dutch cargo bikes or in the park so the children can play while they discuss their next adventure - plans for a joint business.
With no regrets, the four women feel extraordinarily lucky to have each other and to have jointly gone through this special experience.
According to the Office of National Statistics Portrait of The East of England 2009, the east is the fourth highest population of all regions in the UK - after the South East (8.3 million), London (7.6 million) and the North West (6.9 million) - with a population of 5.7 million in 2007 and is projected to have a higher population growth than most other regions over the next 20 years. Overall the residents of the East of England earn above the national average, when in employment, and live in a region with the lowest recorded crime rate in England and Wales.
Helena Lang, Editor of Sainsbury's Magazine, says, "Our readers come from a vast range of backgrounds; what brings them together is their shared lifestyle choices. As a lifestyle magazine that focuses on all aspects of our readers' lives, it's great to be able to highlight the fact that Sainsbury's Magazine readers clearly bond over mutual interests and priorities and build such important friendships."
Sainsbury's Magazine, which is published by Seven, the award-winning customer engagement agency, is now the UK's most widely read, paid-for title. With just under 4 million readers every month (NRS), Sainsbury's Magazine is the only magazine to have won the covetable PPA Customer Magazine Award at the annual Periodical Publisher's Association (PPA) Awards three times.
Sainsbury's Magazine's unique mix of food and lifestyle content offers its readers recipe inspiration from the magazine's renowned food team plus ideas for their homes, families, health and holidays. At only £1.60, the monthly glossy is incredible value, with tips and advice from the best writers and contributors, including a monthly column from keen cook and busy mum Fiona Gibson, a monthly Q&A with top psychotherapist Elizabeth Meakins and recipes from the world's best chefs and drinks experts, including Nigel Slater and Olly Smith.
-End-
Contact at Seven:
Shareena Ali
PR
Seven
3-7 Herbal Hill
London
EC1R 5EJ
Tel: 020 7775 5549
Email: shareena(dot)ali(at)seven(dot)co(dot)uk
About Seven
Seven is an award-winning multichannel content agency.
Experts in creating intelligent, relevant and effective content across multiple channels, including magazines, websites, social media, interactive ezines, video, iPhone and iPad apps.
Clients of Seven include Virgin, Sainsbury's, CIMA, English Heritage, Grant Thornton, Guardian News and Media, Lloyds Banking Group, New Look and Waterstone's.
For further information:http://www.seven.co.uk or contact Shareena Ali, PR, shareena(dot)ali(at)seven(dot)co(dot)uk 020 7775 5549.
###