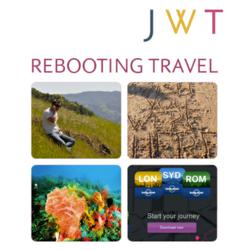 Today's travelers are different from those even a few years ago; they're tech-enabled, with infinite information at their fingertips, and they're driven to share experiences as they're having them
New York, NY (Vocus/PRWEB) April 06, 2011
In its April trend report, JWT, the world's best-known marketing communications brand, surveys the latest travel trends, focusing on how mobile devices, real-time connectivity and social networking are reshaping the travel experience.
"Today's travelers are different from those even a few years ago," says Ann Mack, director of trendspotting at JWT. "They're tech-enabled, with infinite information at their fingertips, and they're driven to share experiences as they're having them. The countertrend is that we're seeing more vacationers looking to get a break from technology and its dominance over their lives."
JWT's travel trends report is the result of quantitative, qualitative and desk research conducted by JWTIntelligence throughout the year. Specifically for this report, JWTIntelligence interviewed travel experts and influencers and conducted a quantitative survey in the U.S. and the U.K. The survey used SONAR™, JWT's proprietary online tool, to poll 1,024 adults aged 18-plus from March 4-15, 2011.
Key trends explored in the report:

Travel's Tiny Essential: No more toting guidebooks and folding maps—the smartphone is replacing them, with its location-based services and guides, mobile mapping technologies and many available travel apps. It's a one-stop shop that connects travelers with their surroundings, each other and travel brands better than any traditional travel guide ever could.
The New Travel Currency: Where travelers of old shared (and bragged about) their activities upon returning home, today's hyper-connected and mobile-enabled vacationers are doing so in real time. Posting photos, video and text updates amplifies the travel experience, affording an opportunity to broadcast far and wide how cool, privileged, worldly, etc. the traveler is.
Unplugged Holidays: In an extension of De-Teching, one of our 10 Trends for 2011, vacationers are increasingly seeking refuge from technology: choosing to log off in an effort to reconnect with loved ones, fully recharge and savor real-world experiences.
The trend report, "Rebooting Travel," is available on JWT Intelligence. Additional knowledge and research on JWTIntelligence.com includes JWT's Social Media Checklist, our Transmedia Rising trend report, 10 Trends for 2011 and 100 Things to Watch in 2011.
About JWT
JWT is the world's best-known marketing communications brand. Headquartered in New York, JWT is a true global network with more than 200 offices in over 90 countries employing nearly 10,000 marketing professionals.
JWT consistently ranks among the top agency networks in the world and continues its dominant presence in the industry by staying on the leading edge—from producing the first-ever TV commercial in 1939 to developing award-winning branded content for brands such as Freixenet, Ford and HSBC.
JWT's pioneering spirit enables the agency to forge deep relationships with clients including Bayer, Bloomberg, Cadbury, Diageo, DTC, Ford, HSBC, Johnson & Johnson, Kellogg's, Kimberly-Clark, Kraft, Microsoft, Nestlé, Nokia, Rolex, Royal Caribbean, Schick, Shell, Unilever, Vodafone and many others. JWT's parent company is WPP.
CONTACT
Gemma Pollard, Global Communications Manager, JWT
+1 (212)-210-8516
Gemma.pollard(at)jwt(dot)com
# # #