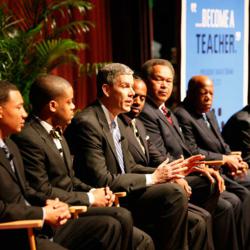 New Orleans, LA (Vocus/PRWEB) April 06, 2011
Loyola University New Orleans is partnering with the U.S. Department of Education to host a TEACH town hall meeting on Friday, April 8, featuring U.S. Secretary of Education Arne Duncan. Joining Secretary Duncan will be Loyola President the Rev. Kevin Wm. Wildes, S.J., Ph.D., New Orleans Mayor Mitch Landrieu, U.S. Congressman Cedric Richmond, and NBA All-Star and New Orleans Hornet Chris Paul III. The TEACH event will take place at 2 p.m. at Loyola's Roussel Performance Hall, located in the Communications/Music Complex.
The purpose of the event is to highlight and honor excellent teachers from the New Orleans area and use their voices to help recruit the next generation of teachers.
The program is part of a series of events held at colleges, universities and high schools across the country through the U.S. Department of Education's national TEACH Campaign, which aims to help increase awareness of teaching nationwide as a valuable and important profession. The campaign's goal is to increase the number, quality, and diversity of candidates seeking to become teachers.
The discussion will focus on why the teachers on the panel chose to enter education, and why it is important to recruit the best and brightest into the teaching profession.
###