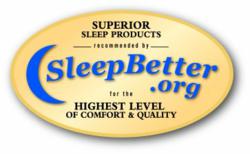 People who are well rested and even take a nap ahead of time are more likely to be better prepared for taking on a complex job like tax preparation.
Richmond, Virginia (PRWEB) April 06, 2011
Procrastinators have an extra three days to put off the inevitable this year; the deadline for filing individual income taxes is April 18, 2011. For some taxpayers, the extended deadline represents welcome preparation time, but others who get stressed-out over taxes are not likely to feel grateful.
"Every year we hear about people who lose sleep over their tax returns," said Dan Schecter, vice president of consumer products at Carpenter Co. and creator of leading sleep tips website SleepBetter.org. "In fact, people who are well rested and even take a nap ahead of time are more likely to be better prepared for taking on a complex job like tax preparation."
University studies confirm that lack of sleep impairs memory, judgment and focus on task. Research involving student volunteers in California showed that subjects who took a nap before a learning challenge performed better than those who did not. A mid-day nap can boost productivity and concentration. Some of the most famous and creative people in history were nappers: Thomas Edison, Albert Einstein, and Leonardo Da Vinci, to name a few.
Sleep advice website SleepBetter.org offers these tips to help taxpayers get an effective nap before crunching numbers for the IRS:

Shorter naps can refresh without causing that groggy feeling afterwards. The best length for a nap is about 20 minutes, at most.
Try not to nap after 3:30 p.m. to avoid interfering with regular sleep patterns at night.
Find a spot where you can be comfortable and safe. Dim the lights, stretch out and take your shoes off.
For more tips to help you sleep better, please visit http://sleepbetter.org. You can also get sleep advice from SleepBetter on Twitter (http://twitter.com/sleep_better) and Facebook (http://facebook.com/sleepbetter).
About Carpenter Co. / SleepBetter.org
SleepBetter.org is dedicated to helping people sleep better. Designed as an online resource, the web site creates a forum for visitors to define, discuss, and discover solutions to their particular sleep needs. SleepBetter.org's quest is to continually gather pertinent sleep information, then share this knowledge with the general public. The site also shares tips on the best sleep related products, both in stores and online. SleepBetter.org has created the Sleep Better seal as a way to easily identify products recommended for their superior quality or scientifically based design. Created by Carpenter Co., the world's largest producer of comfort cushioning products, SleepBetter.org provides information and advice that visitors can use to sleep better. For more information, please visit http://SleepBetter.org.
# # #