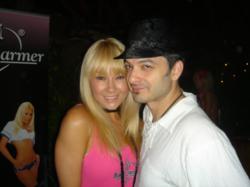 ...Guys everywhere can get the same success Carlos and thousands of other men have enjoyed using for attracting women, no matter your age, your looks, or your income.
San Mateo, CA (Vocus/PRWEB) April 12, 2011
Over the last seven years, there has been a gargantuan amount of information released - albeit, covertly - on how to meet woman and attracting women. Never before have there been so many resources available for men to learn the secrets of attraction and how to date women.
"But there's one critical flaw," Carlos Xuma says. "Men have been learning an incredible number of techniques and tactics for attracting women - what to say and when to say it. They've learned the best strategies from guys who are successful with women. But the gurus who teach these strategies leave out the most critical element in the equation: themselves."
Why are so many men failing to develop attraction skills? Despite the avalanche of information available on dating advice for men, most guys are still not meeting and attracting women as promised by the gurus and pickup artists. Carlos Xuma has unlocked the secret reasons guys fail and created a solution.
Carlos explains that most seduction techniques and routines (scripted interactions that men memorize to use on women) work well for the guru or pick up artist because they originated from that guy's personality and attitude. Some average guy that just wants to meet women gets trapped into thinking that if he uses these same words, he'll get the same results. Or if he watches 'hidden camera' videos that demonstrate those techniques, he'll have a sudden understanding and breakthrough. And that just doesn't happen, Carlos says. Using memorized material is a necessary crutch for guys who are learning this skill, but they're misunderstanding how it all works.
Carlos explains that there are three critical flaws to learning pick up artist techniques to improve any guy's skills for meeting women:
1) The techniques are designed to work mostly in bar and club environments. Less than 5% of all men get a girlfriend in this location.
2) The techniques ignore the situation the person was in when he used it. What was the personality of the girl? What was the emotional state that he picked up on in that moment? What was her body language - and his body language?
3) The techniques fail to account for the individual personality of the guy using them for attracting women. Someone with an extroverted personality will not be able to use the same routines as a guy who is more of an introvert. And most dating tips for guys ignore this critical fact.
"Men can't get success," Carlos Xuma explains, "because even though the lines and material are sound, they ignore the most critical element in the equation: You. If you're not congruent with what you're saying, you'll come across as feeling rehearsed and phony - and that's something that women are keenly sensitive to. You can't fool their radar."
The simple solution that he has created is a trademarked method he calls "R.E.A.L. Game™". This method is something that he discovered over 20 years of dating and research. This is how men can learn to be attractive while being genuine at the same time.
"R.E.A.L." stands for:
R = Relaxed & Resourceful: In order to use lines you've memorized, you have to be relaxed to come across as natural.
E = Effective & Energized: Use only the techniques that work for you, and bring out your natural personality and energy.
A = Alpha & Authentic: Be the dominant man with a confident attitude - and not fake.
L = Lifestyle & Lasting: Integrate these skills in your habits and lifestyle so that they last. Attracting women is who a man is, not a weekend hobby.
By using this trademarked R.E.A.L. Game™ method, Carlos Xuma guarantees that guys everywhere can get the same success he and thousands of other men have enjoyed using for attracting women, no matter your age, your looks, or your income.
# # #