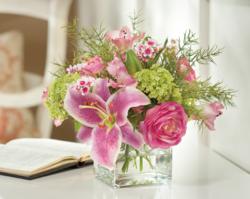 Why give Mom a gift that requires work? Pamper her on Mother's Day!
White Plains, NY (Vocus/PRWEB) April 07, 2011
Nothing says Happy Mother's Day and Happy Spring better than flowers … but why give a gift that lasts only seven days at best? This year give Mom a much longer lasting token of your love with a beautiful silk floral arrangement. Today's quality silk flowers and plants look more realistic than ever (thanks to new technology) and because they look so real, they've become a must-have for home décor. They're a perfect Mother's Day gift – and you can find the widest selection of stunning yet affordable arrangements at Silkflowers.com.
Not only do fresh cut flowers wither and die within a week's time, they're also high maintenance. Vase water needs to be changed every few days, and fallen leaves and petals make a mess. Why give Mom a gift that requires work? Pamper her on Mother's Day! Silk florals are virtually maintenance-free and last a good seven years or longer. Mom can choose to display them year-round as a home decor accessory or simply every now and then for an instant burst of color and cheer and a reminder of your love.
Arrangements by Silkflowers.com range from small stylish bud vases starting at $24 (a perfect accent for a desk or bathroom vanity) to beautiful centerpieces for up to $299, ideal for a foyer, living room or dining room. Surprise Mom with a sweet and simple Hydrangea accent for $39, a cheerful Rubrum Lily and Viburnum arrangement for $49, a posh Calla Lily Extravaganza for $149 or a gorgeous Calla Lily, Tulip and Lily Centerpiece for $159.
Gifts purchased from Silkflowers.com are shipped directly to your loved one's doorstep and expertly packaged to arrive in perfect shape for easy display right out of the box. They're adorned with a stylish gift card, too, that may be personalized with a message of your choice.
"A gift of silk flowers is a wonderful way to provide your special someone with a lasting reminder of your love and appreciation," Tim Hennessy, co-founder of Silkflowers.com, said. "Our extensive inventory and wide selection of styles and colors makes it easy to find something perfect for all moms this Mother's Day."
For more information and high resolution photography visit http://www.silkflowers.com/pressroom. The company is also on Facebook and Twitter and it has a blog, http://blog.silkflowers.com.
Silkflowers.com is the nation's largest supplier of designer-quality silk botanicals, including floral arrangements, decorative stems, silk plants and trees. The company proudly offers the widest selection and inventory of beautifully designed silk creations at affordable prices, delivered directly to consumers with utmost care. Silkflowers.com's sister company, OfficeScapesDirect (Officescapesdirect.com), serves the commercial market in the same manner, offering the widest selection anywhere of designer-quality silk botanicals for business interiors and commercial spaces. Both companies are located in Cincinnati, Ohio, and White Plains, N.Y.
###