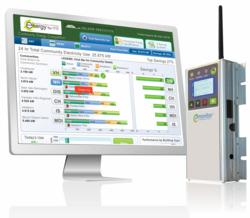 Blue Hill, Maine (PRWEB) April 07, 2011
PowerWise Systems has partnered with the Island Institute to provide technical needs for Energy for ME, an exciting new energy-efficiency project. Students – and their families – from six island and coastal schools are learning to measure energy usage and explore renewable energy sources with the goal of increasing home and school energy efficiency and reducing energy consumption. Participants at each project site will measure energy usage at their school, a community building and two residences, competing with the other community sites to see who can save the most energy.
Thanks to funding from the Environmental Protection Agency's Environmental Education Grant Program and Time Warner Cable's Connect a Million Minds STEM initiative, each community will receive four eMonitors – electricity-monitoring systems – provided by PowerWise: one eMonitor 3-phase (capable of monitoring heavy-duty circuits) in the high school, one eMonitor 3-phase in a community building and two eMonitor 24 units (monitors 24 "standard" circuits) in two homes.
The Island Institute has also engaged Intellergy, Inc, the local parent partner of PowerWise, to create a custom online dashboard that will give a snapshot of the entire project in real time as electricity is flowing. Starting with a baseline of a year of utility expenses and a month of eMonitor electrical data for each location, the dashboard will show school and community building usage in real time, but not residential real-time usage, to protect privacy. To level the playing field for communities of different size and usage needs, the competition will focus on comparing the energy consumed versus square footage and number of occupants.
Energy for ME is designed to empower students and their communities to develop creative solutions – encouraging each site's team members to be "better than we used to be" when it comes to energy consumption. The dashboard will show money saved, carbon footprint for each community, and equivalents to energy saved, such as the number of cars removed from the road.
Ruth Kermish-Allen, Education Director at the Island Institute, is delighted with this new partnership with Powerwise and Intellergy, and believes that the project will put critical knowledge into the hands of the next generation of energy experts. "I looked at several electricity-monitoring systems before selecting the eMonitor from Powerwise, and I feel really confident about the company's expertise and the quality of the products. The custom dashboard is an amazing piece of technology, and will give us the ability to capture information in real time, making the competition an exciting one for our students and their families."
For more information, please contact Joanne LaCarrubba Steenberg at joanne(at)powerwisesystems(dot)com, 207-266-0225 (cell) or 207-370-6517 (office).
# # #