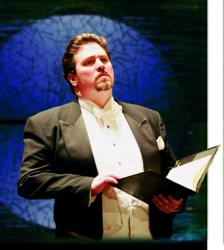 Newberg, Ore. (Vocus/PRWEB) April 07, 2011
Special guest performers, including internationally renowned opera star Richard Zeller, will join the George Fox University Symphonic Band and Concert Choir for the university's annual Spring Concert at 7:30 p.m. Tuesday, April 19, in Bauman Auditorium on the school's Newberg, Ore., campus.
Zeller, a 1983 George Fox graduate, is one of America's foremost baritones and is known for his sonorous dramatic voice, a compelling stage presence and musicianship. His opera engagements have included 12 seasons at the Metropolitan Opera and dates at opera houses around the world.
Zeller will be among the soloists in a performance of Mozart's "Requiem." Soloists will include Zeller (bass), voice faculty members Maggie Daane (soprano) and Cynthia McGladrey (alto), and Les Green (tenor) of Willamette University.
Also taking the Bauman Auditorium stage will be the university's Symphonic Band, directed by Pat Vandehey, which will perform "George Washington Bicentennial March," by John Philip Sousa; "A New Birth of Freedom," (a narrative setting of Lincoln's "Gettysburg Address") by Randol Alan Bass; and "Give us This Day" by David Maslanka.
The Concert Choir, conducted by Loren Wenz, will perform "O Praise the Lord from the Heavens," by Pavel Chesnokov; "O Magnum Mysterium," by Tomas Luis de Victoria; and "Sanctus" by James Pick, a senior composition major from George Fox.
Tickets cost $10 for adults, $8 for seniors and George Fox alumni, and $6 for students and children. Tickets can be reserved online at music.georgefox.edu, through the University Box Office by calling 503-554-3844, or may be purchased in Bauman Auditorium on the night of the concert.
Bauman Auditorium is renowned for its acoustics. In fact, the Oregon Symphony, one of America's major orchestras, uses the facility for recordings because of its superior acoustics. James DePreist, laureate music director of the symphony, describes the auditorium as "one of the finest venues for music-making in this country."
The April 19 performances will include several of the university's music major students. The university offers two music majors, one of which consists of a music core required of all majors, plus at least one of four concentrations: general, performance, pre-teaching and composition. The second major is music education. Students completing this degree will be licensed to teach music in grades P-12 after four years of study.
George Fox University is ranked by Forbes as the top Christian college in the Pacific Northwest and among the top three Christian colleges in the country. George Fox is the only Christian university in the Pacific Northwest classified by U.S. News & World Report as a first tier national university. More than 3,400 students attend classes on the university's campus in Newberg, Ore., and at teaching centers in Portland, Salem, and Redmond, Ore., and Boise, Idaho. George Fox offers bachelor's degrees in more than 40 majors, degree-completion programs for working adults, five seminary degrees, and 11 master's and doctoral degrees.
Contact:
Debbie Hawblitzel
Department of Performing Arts
503-554-2620
###