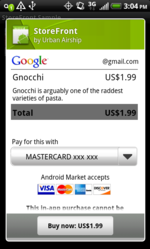 " A lot of people are still talking about app downloads ... true success on mobile comes from increased user engagement and the ability to turn a profit with an app," Scott Kveton, CEO, Urban Airship
(Vocus/PRWEB) April 07, 2011
Today, Urban Airship, provider of a mobile services platform that helps developers create more engaging and profitable mobile apps, announces availability of In-App Purchase for Android. This highly anticipated feature set allows developers to offer additional content to users right within the app by offering simple, one-click billing. In-app purchase is core to many app-monetization strategies.
In-App purchase helps apps monetize by adding additional revenue streams for mobile content; developers need not rely on revenue from the initial app download. In fact, the "freemium model," in which apps are free for initial download and offer users opportunity to enrich their app via additional content, accounts for a fast-growing distribution of revenue amongst the highest grossing mobile apps. According to research firm Distimo, 34 percent of the revenue generated by the most successful iPhone applications in the United States was generated by free applications featuring in-app purchases; additionally, the share of revenue generated by in-app purchase more than doubled in the six months ending in December 2010. Android developers can now take advantage of this same revenue growth opportunity.
Urban Airship provides a "last mile" service to ease and simplify integration of in-app purchase features for the new Android offering, announced last week. Urban Airship has been participating in Google's beta program and developing in lockstep with Google to bring its tools to market in time for this highly anticipated feature. Urban Airship first introduced in-app purchase services for iOS developers 18 months ago, and is pleased to roll-out a set of similar services to the Android developer community. To date, Urban Airship has facilitated more than 2.8 million in-app transactions and now this number will grow even faster.
The new Urban Airship In-App Purchase service for Android developers enables the delivery of richer content with less complexity, including:

Dynamic content: The Android Market limits application size to 25mb (even over WiFi). Apps with rich content and media files can use Urban Airship In-App Purchase to grow beyond that. Developers upload paid and free content to the Urban Airship servers, which delivers the content to the end user when needed.
Security: Urban Airship reduces complexity around security by validating all purchase receipts before delivering content to the application.
Versioning and Updates: Urban Airship tracks updates to purchasable content and notifies users when updates are available. Developers can fix bugs in their updates without shipping an additional app update.
Android a Fast-Growing Platform
According to independent metrics firm AndroLib, the rate of Android application growth has been on a nonstop rollercoaster ride upward for months, and -- correlating with the overall growth of the platform -- it shows no signs of slowing down. This points to enormous potential to monetize mobile apps on Android.
"A lot of people are still talking about app downloads and tossing around some big numbers," says Scott Kveton, CEO of Urban Airship. "But true success on mobile comes from increased user engagement and the ability to turn a profit with an app. Our customers have been anxiously awaiting a user-friendly way to monetize on the Android platform and we are thrilled to be able to offer it now with our latest cross-platform offering."
Urban Airship recently introduced Embedded Push, an alternate push notification system for Android to Google's own C2DM. Embedded Push is more robust than C2DM and works on versions of Android from 1.6 and newer; C2DM works only on devices running Android 2.2 (also known as Froyo) and newer and requires the installation of the Android Market and a Google account on the device, adding more requirements for developers.
Key Urban Airship Facts:

Urban Airship has delivered more than 2.6 billion push notifications across the iOS, Android and BlackBerry mobile platforms.
Urban Airship delivers more than 15 million push notifications each day.
Year over year, the number of notifications Urban Airship has delivered has increased by 1.5 thousand percent (1,555%).
Urban Airship has authenticated and delivered more than 2.8 million purchases via in-app purchase.
Customers make an average of 8 thousand in-app purchase transactions per day.
More than 100 million mobile devices are connected to the Urban Airship platform.
Supporting Resources:

About Urban Airship
Urban Airship powers the world's most successful mobile apps. Providing breakthrough technology, Urban Airship makes mobile marketing far more engaging, effective, and efficient. Top brands depend on Urban Airship to ensure their mobile app initiatives are scalable and profitable. Verizon, Dictionary.com, Tapulous, and Warner Bros. are just a few of the thousands of companies that utilize Urban Airship's innovative platform to reach and engage target audiences - and increase app revenue streams. Urban Airship puts the power of influence in marketers' hands through push notification, rich messaging, in-app purchases and data tracking with a cross-platform offering. The privately held company is based in Portland, Oregon. For more information, visit urbanairship.com.
# # #