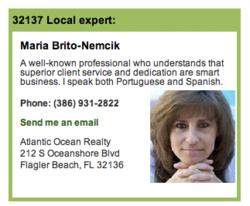 I've been in real estate for many years and this is the first time I've gotten measurable results in such a short time from my marketing spend.
Palm Coast, Fla. (Vocus/PRWEB) April 07, 2011
CLRSearch's main goal is to provide direct, unencumbered access to real estate professionals, allowing homebuyers to decide when they want to engage. Many professionals are now, successfully, utilizing the website's low cost, flexible advertising platform that assists real estate professionals in leveraging their hyper-local market, Local Expert Ads.
The company has provided tools to help professionals track statistics on their listings, allow them to create a professional profile (for later integration into an agent search feature) and finally provide a low cost, hyper-local ad platform to assist in marketing efforts.
CLRSearch Local Expert for 32137, Maria Brito-Nemcik, is a Local Expert success story. Brito-Nemcik bought an ad on a Thursday and received an email lead on the next day from a buyer looking for a home in her Zip Code. The sale from this email will cover the cost of her ad for the next 50 years. Now, that's a return on investment. Brito-Nemcik, happy with her results from her first ad, recently bought a second Zip Code, 32136.
"I've been in real estate for many years and this is the first time I've gotten measurable results in such a short time from my marketing spend," Brito-Nemcik said.
At $9.99 a month for a Zip Code and $19.99 for an entire city or town, CLRSearch will prominently display an agent's ad throughout the entire user search experience. This will provide a means for real estate professionals and related businesses to brand a particular market at the Zip Code, city or town level. Each ad unit is fully customizable through an easy to use interface in each user's settings.
Professionals can monitor their ads for effectiveness and modify them, as necessary. Statistics are tracked for ad impressions, clicks to each link and the number of questions sent via the search results "Have a Question?" form.
Local Expert Ads Include:
1. Hyper-Local Exposure: Each ad is displayed throughout the consumer's real estate search experience for each City/ Town or Zip Code
2. Large, Prominent Ad: 300 x 250 pixel ad units are prominently displayed above the fold
3. Featured Listings: Includes 10 featured listings that appear at the top of the real estate search results page
4. Direct Connect: An email link by means of the "Have a Question?" form in the real estate search results for your chosen market
5. Simple and Flexible: The ability to customize each purchased ad unit through a straightforward interface
6. Market Dominance: There is only one sponsor for each City/ Town or Zip Code for the majority of our search areas. Several geographies, due to their size, allow for the purchase of a percentage of the market.
For more information about CLRSearch Local Expert Ads or to sign up for a free account, visit CLRSearch Local Expert Ads.
About CLRSearch
CLRSearch.com is a Real Estate Search Engine that provides a data rich environment to explore listings, foreclosures, school information, community demographics and other data relevant to one of the most important decisions of your life, buying a home.
CLRSearch provides a space to search a vast amount of listings in a particular area, identify key demographics and review the strength of the schools without having to cross any lead-generating roadblocks. Each homebuyer can create their own perfect virtual property and be alerted when similar properties become available.
CLRSearch listing feeds are imported daily to ensure the most up-to-date information possible. The demographic data is updated yearly and provided by some of the top sources available.
###