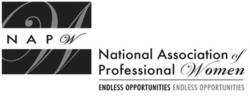 ...alternating locations is still a consideration so we can accommodate the most members possible...
Garden City, NY (Vocus/PRWEB) April 19, 2011
The Raleigh-Durham Chapter of NAPW met on March 22, 2011 at Brixx Woodfired Pizza in the Brier Creek area of Raleigh. In attendance were Anjanette Saunders, Sandi King, Samantha McAuliffe, Annie Therrien, Randi Stewman, and Jaqueline Lee-Smith. This meeting was Annie and Jaqueline's first NAPW Chapter meeting and Randi's first meeting as an official member of NAPW.
Annie Therrien is an Associate Engineer for Rolf Jensen & Associates and is based in their Raleigh Office. She is originally from Canada and has been working with RJA since 2008. Her expertise is in fire protection.
Jacqueline Lee-Smith is a Senior Statistical Programmer and Project Lead for UCB Biosciences, Inc. She is responsible for leading clinical project teams in developing and analyzing clinical reports that are submitted to the FDA for drug development.
After time was taken to introduce the members to one another, the group discussed topics for future meetings. Each member in attendance was asked to submit ideas and topics of interest to be covered at upcoming meetings. Topics could be discussed via member presentations on their area of expertise or by bringing in local speakers. Anjanette Saunders was asked to give a demonstration to the group on skin care and make-up application. She agreed to do so. The group also discussed local conference and seminars available to business professionals.
Samantha McAuliffe and Sandi King offered to research other chapters to see what was being done at their meetings and to bring these ideas back to the group in April. Meeting locations and venues were also discussed.
"Brier Creek is a good mid-point for most people, but alternating locations is still a consideration so we can accommodate the most members possible," said Chapter President Samantha McAuliffe. The third Tuesday of each month also seemed to work well for most people. The next meeting will be held on April 19, 2011.
A point of correction from last month's minutes, Teelezyne Anderson was listed as being a Development Officer for Duke University. Teelezyne is an Administrative Coordinator to the Vice President for Development & Alumni Affairs for Duke Medicine.
For additional information regarding the Raleigh-Durham local chapter and/or [NAPW please visit http://www.napw.com.
Follow us on Facebook and Twitter.
###