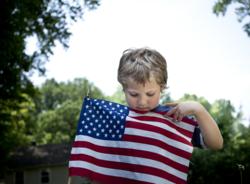 (Vocus/PRWEB) April 07, 2011
Launched today, The Mission Continues Challenge asks all Americans to dedicate ten minutes of their time to learn about issues facing veterans returning from Iraq & Afghanistan, tell ten friends about what they've learned and donate ten dollars to challenge this generation of veterans to become citizen leaders. You can take the challenge now at http://www.missioncontinueschallenge.org.
The initiative was launched by The Mission Continues, a national nonprofit organization that challenges veterans to continue their service to their country by serving in their communities. The organization provides community service fellowships to wounded and disabled post-9/11 veterans, mobilizes civilians and veterans to improve their communities through service projects and conducts and disseminates research aimed at reshaping the national conversation surrounding this generation of veterans.
The Challenge provides a simple platform for every American to learn about the challenges facing this generation of veterans and their ability to continue their service in our communities. Through engaging videos, short articles and social media tools, all Americans can educate themselves and their networks by taking the Challenge.
About The Mission Continues
The Mission Continues is a national nonprofit organization headquartered in St. Louis, Missouri. The organization's mission is to build an America where every returning veteran can serve again as a citizen leader, and where together we honor the fallen by living their values through service. The organization offers paid service fellowships to wounded and disabled veterans, awarding 128 fellowships in 25 states to date. In addition, The Mission Continues has engaged in 15, 624 in civilian and veteran volunteers to complete 271 service projects across the nation. For more information about The Mission Continues, please visit http://www.missioncontinues.org.
###