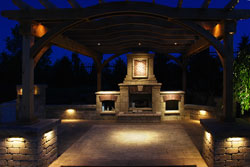 Hardscape manufacturers (and the contractors who install their products) understand the importance of longevity in a hardscape installation.
Hawthorne, NJ (Vocus/PRWEB) April 08, 2011
CAST Lighting, a New Jersey based low voltage landscape lighting manufacturer, reported today steady increases in sales attributed, in part, to growth in the outdoor living spaces market. This market that includes projects such as decks, patios, and outdoor kitchens, is one of the fastest growing segments in the home improvement industry.
Bruce Kenison, CAST Lighting's National Sales Manager, comments, "There's an increasing trend for homeowners to invest in the improvement of their backyard spaces. With rising cost of travel, many elect to stay home for recreational enjoyment. There is also the reality that people work longer hours. This means that time for recreation is often in the evening. That's where CAST Lighting comes in; we provide the type of comfortable and enduring outdoor illumination that allows homeowners to extend their living space into the nighttime outdoors."
With a reputation for manufacturing the industry's most rugged and durable outdoor lighting fixtures (made of solid bronze), CAST Lighting gained the attention of other manufacturers who provide the materials and products for outdoor living spaces. Viking Pools, the nation's largest supplier of pools and spas, selected CAST Lighting as the only provider of landscape lighting in their Extended Living Spaces program. This partnership extended CAST Lighting's sales network to Viking Pool's entire dealer network (over 700 members).
CAST Lighting also established relationships with some of the nation's largest hardscape suppliers, Techo-Block, EP Henry, Unilock, and Nicolock. These providers of paving stones, wall blocks, and outdoor kitchen areas appreciate the extreme durability of CAST Lighting products.
David Beausoleil, CAST Lighting's president and founder, remarks on these relationships, "Hardscape manufacturers (and the contractors who install their products) understand the importance of longevity in a hardscape installation. Patios and retaining walls are permanent installations meant to last a lifetime. It makes no sense (when you're building a wall) to install lighting fixtures that break or corrode in a matter of months. That's why we construct our lights from solid bronze, the most corrosion-resistant metal, and why we incorporate the highest-possible quality internal components. We are the only company that can claim that our lighting fixtures last as long as the hardscape."
Training has been a critical element in CAST Lighting's success. The company's sales force, spread throughout the country, is comprised of hands-on landscape lighting experts who provide both formal and informal landscape lighting training. These trainings have been instrumental in getting outdoor living space contractors up and running with landscape lighting design. Hardscape distributor partners often host these shared training events.
Despite the sluggish economy, CAST Lighting continues to outpace competitors and gain market share. Beausoleil comments, "The entire landscape lighting industry was hit hard by the recession. Consumer spending slowed to a point where many lighting manufacturers faced cut-backs and lay-offs. A couple of our competitors were forced to sell their assets. CAST Lighting, on the other hand, continued to grow at a steady pace. While others were cutting back, we were expanding our production capabilities in our South American foundry. We reject the trend to move manufacturing to China, and continue to make our own products to the high standards that our loyal customers expect."
About CAST Lighting
CAST Lighting manufactures solid bronze landscape lighting fixtures and complete low voltage system components. For more information, go to cast-lighting.com.
###