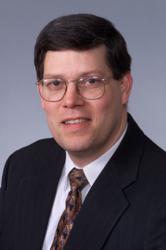 Salt Lake City, UT (Vocus/PRWEB) April 07, 2011
The Utah Technology Council (UTC), which seeks to foster the growth of high-tech, life science and clean-tech companies in the state, named Steven P. Shurtz of Brinks Hofer Gilson & Lione its 2010 Volunteer of the Year at the organization's Annual Members' Meeting on March 31, 2011.
The UTC cited Mr. Shurtz's extensive volunteer role as a business leader on the State Math Steering Committee and for promoting the UTC's initiatives with the Utah State Office of Education on quality workforce. Mr. Shurtz also serves as a member of the Board of Directors of the Utah Science and Mathematics Education Consortium, and volunteers in the classroom for the Junior Achievement and Utah Scholars programs. He has also served as Assistant Scout Master, an Explorer Post Advisor and a Charter Organization Head for the Boy Scouts of America.
At Brinks, Mr. Shurtz specializes in U.S. patent application preparation and prosecution, foreign patent prosecution, patent opinion and counseling. He supervises patent procurement activities, including foreign patent strategies, oppositions and the use of the Patent Cooperation Treaty and regional patent offices, as well as prepares and prosecutes patent applications on individual chemical and mechanical inventions, including appeals to the Board of Patent Appeals and Interferences. Mr. Shurtz also serves as the managing shareholder for Brinks' Utah office.
Mr. Shurtz is a member of the American Bar Association's Section on Patent, Trademark & Copyright Law and the Intellectual Property Law Committee 102 (International Patent Laws & Treaties). He is on the International and Foreign Law Committee and the Relations with PTO Committee at the American Intellectual Property Law Association. Additionally, he is a member of the Intellectual Property Law Section of the Utah State Bar Association, and a member of the J. Reuben Clark Law Society.
Utah's premier professional association, the Utah Technology Council has become the essential business resource for life science, clean-tech and high-tech companies seeking to achieve greater success. At its core, UTC exists to foster the GROWTH of the state's more than 5,700 technology companies, ensure Utah develops the highest QUALITY WORKFORCE in the nation and attract an ever-increasing array of FUNDING. Members join UTC to share insights with industry peers, counsel with government and academic leaders and receive help from professional service providers and funding resources. Visit http://www.utahtech.org for more information.
Brinks Hofer Gilson & Lione is one of the largest intellectual property law firms in the United States and serves the intellectual property needs of clients around the world. Brinks has 150 attorneys, scientific advisors and patent agents who specialize in intellectual property litigation and all aspects of patent, trademark and copyright law. The firm also advises on issues relating to intellectual asset management, trade secret, unfair competition, and technology and licensing agreements. Brinks routinely handles assignments for companies in the electrical, chemical, and mechanical engineering sectors; the biotechnology, pharmaceutical and nanotechnology industries; and for companies whose work relates to Internet and computer technology law. The firm's trademark practice works on behalf of clients who deal in a wide variety of products and services. Brinks is based in Chicago and has offices in Ann Arbor, Mich., Indianapolis, Ind., Raleigh, N.C., Salt Lake City, Utah, and Washington DC. More information is available at http://www.usebrinks.com.
###