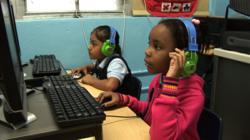 Students who participated in a media-rich curriculum tested higher in literacy skills than those who did not.
Provo, Utah (Vocus/PRWEB) April 07, 2011
For many states in the U.S., preparing children to enter kindergarten with adequate literacy skills is a significant challenge with real economic ramifications. A recent study in Minnesota revealed that students who are not prepared for kindergarten cost the state $113 million each year. To lower these costs, many schools are turning to Imagine Learning English, a language and literacy software program designed to prepare young students for kindergarten and future grades.
In a recent study by the Education Development Center, researchers found that pre-K students who participated in a media-rich curriculum tested higher in literacy skills than those who did not. By offering media-rich literacy activities involving videos, songs, and hands-on play with letters, Imagine Learning English helps pre-K students stay engaged while learning key pre-literacy skills.
"Children at the pre-K level learn in different ways," said Grace Fink, a preschool teacher at Melrose Elementary School in Miami. "Some children are visual learners, and some children are auditory learners—the Imagine Learning English focuses on all those aspects. It has songs, it has videos, it has games; it focuses across the board on all learning styles."
Each year, Florida kindergartners participate in a state-mandated screening to assess their school readiness. After one year of using Imagine Learning English, Melrose Elementary School's readiness rate for kindergartners jumped 45 points, an impressive accomplishment that the school attributes in part to Imagine Learning English.
Schools across the U.S. are turning to multimedia technologies like Imagine Learning English to keep their young learners engaged. And because children today are exposed to technology from an early age, teachers have found that computer-based programs pose very few difficulties for students as young as three and four years old. "My pre-K students have absolutely no problem using Imagine Learning English," said Marie Lowry, a teacher at Miss May Vernon Elementary School in Royce City, Texas. "It is incredible how quickly they catch on."
Many teachers find Imagine Learning English to be an exciting and engaging complement to their traditional classroom instruction. "It reinforces everything that we're teaching in the classroom, whether it be letters, letter sounds, matching, colors," said Cynthia Garza, a teacher at Edwards Center for Young Learners in Chicago, Illinois. "Everything that's going on in the program—that's what's going on in the classroom."
"Literacy education can and should start before kindergarten," said Susan Preator, CEO of Imagine Learning. "If we can accelerate the learning of our pre-K students by engaging them with technology, they will enter kindergarten with the pre-literacy skills needed for long-term academic success."
Imagine Learning English offers the following features for pre-K students:

Explicit instruction in all five literacy areas: phonemic awareness, phonics, fluency, vocabulary, and comprehension
Engaging activities with age-appropriate characters
Direct instruction in print concepts and letter sounds
Ongoing assessments
Detailed reports
About Imagine Learning
At Imagine Learning, we're passionate about bringing language and literacy instruction to the students who need it most. That's why we used state standards and scientifically based research to develop Imagine Learning English, an innovative software program that uses first-language support, continual assessment and differentiated instruction to meet the needs of four key student populations: English learners, struggling readers, students with disabilities and early childhood education students. Imagine Learning English gives students one-on-one instruction, continual assessment, and scaffolded support while keeping teachers abreast of student progress through real-time reports. Visit our website at http://www.imaginelearning.com to find out how we're giving students, parents and teachers essential tools for language and literacy development.
# # #