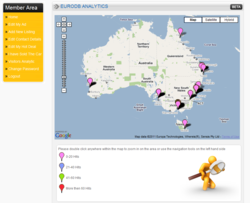 Whilst Internet can provide exceptional online exposure, it can also expose unwary individuals to online fraud. Many are failing to recognise increasingly growing need for improved security.
Melbourne, Australia (PRWEB) April 09, 2011
Euro DB Group Pty Ltd recently introduced a number of innovative features through Euro DB Automotive website targeting improved security through fully automated 10-Point security check and Online Analytic.
This user-friendly classified car website provides easy to use one-stop shop for all that are in the used or new car market, supported by highly innovative features that also makes it one of the safest automotive classified websites.
Introduced 10-point security system ensures only genuine sales enquiries will ever get through to registered users selling their vehicles on Euro DB Automotive website.
"Many online classifieds are consistently targeted by organised criminal syndicates with intent of financial gain through deception, often succeeding with unwary private sellers that are unfamiliar of such criminal activities. Targeting both buyers and sellers through online classifieds by posing as genuine sellers whilst positing fake listing often copied from another online adverts with unrealistically low prices with intent to collect partial deposits or full payment to secure the goods. Another widely used method involves scammers posing as genuine buyers making generous offers for the advertised goods with preferences to use Pay Pal or Escrow money transfer to finalise the transaction. Once agreed, scammer will issue fake invoice statement followed by request to refund for overpayment often referred to as genuine error. Our 10-Point security check effectively eliminates such treats. In fact, since introduction it has intercepted and removed hundreds of such frauds that would otherwise be getting through." -- Luisa Morone; Operations; Euro DB Group Pty Ltd
Another innovative product recently launched by Euro DB Automotive allows Private sellers and Used Car Dealers understand Advanced Demographics currently provided free of charge to all registered users.
"To date, many sites will adopt to "number of viewings" as promotional tool to enhance their reputation with undecided sellers, but often this tactics are irrelevant as any competitive sites relay on driving traffic on a global scale in order to stay competitive that is often represented by up to 45% of visitors from outside of targeted region. Our Euro DB Analytic takes care of that providing detailed mapped overview of unique visitor's. Operations And Editorial management," said Mark Prchal; Euro DB Group Pty Ltd.
"Euro DB Automotive ongoing online recognition through recognised search engines platforms continues to gain momentum. To date we have already surpassed many other long-term established classifieds. Our priority is to provide affordable means of vehicle and display advertising for the automotive industry and distribution throughout Australia. Our customers are telling us of excessive alternatives that can charge up to $12,000 for 100-Vehicle inventory per month through number of different methods. Our promise is to provide effective and innovative selling platform supported by fix price advertising structure that to date received many appraisals from within the industry," said Mark Kucera; MD Euro DB Group Pty Ltd.
"Whilst others warn their visitors about potential risks through display messaging, Euro DB Automotive effectively eliminates such threats with its innovative 10-Point security check," said Lenka Bezekova; Euro DB Group Pty Ltd.
###