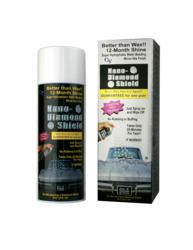 Nano Diamond Shield is the World's First 100% Nano-Particle Automotive Protection.
Tampa, FL (PRWEB) April 08, 2011
In 20-minutes of easy application, anyone can achieve an amazing mirror-like finish better than multiple coats of the finest Carnauba paste wax. But that's just the beginning. Users also get super-hydrophobic water beading, the highest level of UV protection, and extreme chemical resistance. And it lasts for a full 12 months.
Spray on and wipe off. No set-up. No rubbing. No buffing.
Crystal View Chemicals, Inc. launches another first-to-market product called Nano-Diamond Shield.
This follows the success of their CV Headlight Restorer/Defogger Kit. Founded in 2002, Crystal View Chemicals was the first company to create a Patent Pending Headlight Restoration System that not only removes the damaged discolored yellowed plastic, but also incorporates a sealer specifically engineered to replace the factory's laminate protection.
Crystal View Chemicals has created another revolutionary new product that is the next evolution in exterior automotive protection. Nano-Diamond Shield is the very first product composed of 100% silica (glass) nano-particles in an aerosol suspension. There is no wax in our product at all.
Ask yourself; does any other product offer this:

Resistant to 500°F = Protects wheels from brake dust
100% Nano glass particles - No wax content at all
Method of application is aerosol = No rubbing or buffing
Safe for all surfaces on the vehicle
Hardens paint surfaces to 4-H = No more swirl marks
20 minutes to apply
Guaranteed to protect all surfaces for one year!
For wheels, just spray and wipe off. It is that simple. You won't need acid, high-PH cleaners or harsh scrubbers to clean your wheels anymore. All you need is water and a regular sponge. Carnauba wax's melting temperature is between 105°F - 145°F. Brake dust hits the wheel at 300°F. Our product is resistant to 500°F.
Crystal View Chemicals, Inc., Nano-Diamond Shield has been formulated to revolutionize the automotive appearance industry, and will make many other car detailing and car wax related products obsolete.
Instead of spending hours applying and removing traditional car wax several times per year, simply walk around the car spraying Nano-Diamond Shield on every exterior surface. No need to mask off anything. Overspray is not harmful and will not leave any residue on soft or porous surfaces like canvas tops and rubber.
The application process is quite simple. Spray it on then, wipe off the residue. No setup. No rubbing. No buffing. Once completed, it forms a cross-linking molecular bond to all hard, non-porous surfaces such as Glass, Metal, Plastic, and Paint.
The only similar products on the market, must be applied by a trained professional with a compressor and an air-gun, in a dust-free paint booth. They can only be applied to paint, so all glass, wheels, and convertible tops must be masked off to prevent overspray. And they must be cured for hours under high-intensity industrial UV lamps.
Finally, a product that gives better-than-wax shine and protection in a 20-minute application. This will attract the millions of auto owners who want to have that just-waxed look but, are not willing to spend the hours necessary to achieve it. For a more in-depth look into this revolutionary new product, visit http://www.NanoDiamondShield.com.
# # #