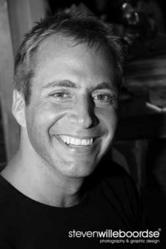 I will be exhibiting a mixture of prints and originals; I challenge you to spot the difference
(Vocus/PRWEB) April 07, 2011
It's true he tells us 'but it's in a lovely restaurant which makes great cakes, couldn't resist'. It's not because he didn't want to do physical exhibitions, Marcus says, rather he doesn't enjoy marketing himself and finding an exhibition space that isn't a vanity gallery, requires an awful lot of that. The Jardine Bistro in Wivenhoe, which is hosting the 1 month event, led the talks and arrangements from the start. After an initial contact and a meeting they selected which paintings they wanted and have made all subsequent arrangements with energy and enthusiasm.
Another reason he is happy to exhibit at the Jardine Bistro is that they take no commission. It's win/win says Marcus. They are able to decorate their restaurant providing a change of scene for their regulars and of course attracting new clientele with the artist enjoying very positive exposure at no financial risk. The restaurant will not be crowded with the British artists work; rather 10 paintings will be displayed in the 3 rooms of the bistro. The restaurant is warm and modern in decoration while remaining cosy - a fitting frame to the strong,contemporary oil paintings that make up most of Marcus' collection.
The exhibition is titled 'The dimension of stillness'; those moments when you catch yourself looking out on a busy world but wonder if it's only you there looking. Although Marcus's use of the dreamy light and warm oil colours display a very positive view of the world, they also hint at a touch of loneliness, a sort of isolation in the otherwise constant buzz of a city. They represent a momentary echo you may have heard in an otherwise enjoyable day.
Marcus was clearly looking forward to this chance to exhibit. Although his impressionist artwork does look good on a computer monitor, this is no comparison to seeing the vibrancy of colour and extravagant texture of the real thing. 'I will be exhibiting a mixture of prints and originals; I challenge you to spot the difference'. Marcus releases 5 full size limited edition prints, often textured along with each original painting, the quality of which represents a very good likeness to the original. 'The prints are fantastic, textured and vibrant and I'm looking forward to displaying them alongside the originals'. The originals on display range between £800 and £2000 so these impressive prints make an affordable alternative. If you like the original but want a print of it, this can be arranged and sent in a matter of weeks.
There will be 4 prints and 6 originals on display although once you've seen the art of the possible, you may be more inclined to take the plunge into Marcus' virtual gallery, Modern-Impressionist.com and buy a painting or print you haven't seen in the flesh. Marcus reminded us that if you do this and you don't like it when it arrives, you only need send it back.
The exhibition starts May 9th 2011 with a private view that evening. For a full schedule of events, contact the Jardin Bistro direct or Marcus Krackowizer, the artist, via his website.
###