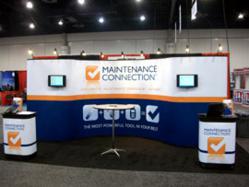 Davis, CA (Vocus/PRWEB) April 08, 2011
Maintenance Connection will be a leading sponsor of the Reliability Performance Institute's CMMS Summit 2011. The event will be held April 11-13, 2011 and will be located in Fort Myers Florida at the Reliability Performance Institute facility. The three day event will host a variety of new CMMS/EAM users. The summit will be offering many CMMS based seminars and educational sessions. On Tuesday the 12th, at 1:00pm, Maintenance Connection will be presenting a case study based on ways to use a CMMS to meet Green Initiative Standards.
Maintenance Connection's CMMS/EAM solution is uniquely positioned to manage all aspects of a maintenance operation, right at the fingertips of maintenance personnel. Maintenance Connection can provide solutions in all aspects of maintenance, all packaged in an intuitive and easy-to-use interface that allows you to manage maintenance, not software.
Maintenance Connection connects maintenance personnel to extend asset lifecycle, track maintenance costs, prevent and predict equipment failures, improve labor productivity, reduce costly equipment downtimes, minimize investments in inventory, and lower the total cost of maintenance. Our unique combination of cutting-edge CMMS/EAM technology and emphasis on service excellence has led to thousands of satisfied users worldwide.
Maintenance Connection participates in a number of regional and national events demonstrating to prospective customers and training existing customers on our flagship maintenance software product. If you can't make it to the CMMS Summit 2011, visit us at one of these other 2011 events to learn why Maintenance Connection is the leader in Maintenance Software technology.
Florida Building and Facility Management
ASHE 2011 National Conference
Facility Decisions 2011
Reliability Performance Institute Solutions 2.0
# # #