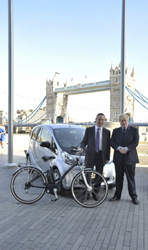 (PRWEB UK) 9 April 2011
The new all-electric Peugeot iOn city car has finished off a whirlwind launch tour of the UK at London's City Hall, where Mayor of London, Boris Johnson, cast an approving eye over one of the first zero tailpipe emissions cars to go on general sale.
The iOn, which has been showcased to customers and media at Peugeot Dealerships in Bristol, Birmingham, Manchester, Edinburgh, Teeside and London in the last two weeks, has received universally favourable reviews from drivers and prompted much debate about how the country can best support electric motoring.
H.M. Government is providing £250M funding for electric vehicles in the form of a £5,000 grant to buyers and funds to support charging infrastructure around the country but London's unique transport issues make electric motoring a particularly compelling proposition.
The Mayor of London, Boris Johnson, said: "I want London to be the electric car capital of Europe, so I am delighted that 2011 sees manufacturers accelerating their efforts to bring this technology onto the roads. We're going to see electric cars playing an increasing role in pushing down pollution from transport in London as more drivers start to own and run these vehicles. This is why we are introducing the first city-wide electric vehicle scheme, Source London, in spring this year to provide more infrastructure and support."
Source London (http://www.sourcelondon.net) will double the number of current charge points in the capital from the time of its launch and will provide at least 1300 publicly accessible points by end 2013. London was in the first wave of Plugged in Places locations selected by the government to help their pioneering electric vehicle programmes.
Jon Goodman, MD of Peugeot UK, presented the iOn to Mr Johnson, said: "The Mayor has an acute understanding of the challenges for London's transport and was very interested to hear about how electric cars can fit into city life. On top of the environmental benefits, the Peugeot iOn needs no costly fuel to operate; it is exempt from the Congestion Charge and it is free to park in some London boroughs. That's a pretty compelling portfolio of savings for London's drivers."
To obtain high resolution downloadable images of the Peugeot range of low-carbon vehicles please log on to the Peugeot Press website: http://www.peugeotpress.co.uk (Newspress passwords apply.)
Press Contacts
http://www.peugeotpress.co.uk
Andrew Didlick \ +44 (0)24 7688 4309
Andrew(dot)didlick(at)peugeot(dot)com
Ian Sedgwick \ +44 (0)24 7688 4216
ian(dot)sedgwick(at)peugeot(dot)com
Kevin Jones \ +44 (0)24 7688 4215
kevin(dot)jones(at)peugeot(dot)com
Craig Morrow \ +44 (0)24 7688 4261
craig(dot)morrow(at)peugeot(dot)com
Janet Brace \ +44 (0)24 7688 4257
janet(dot)brace(at)peugeot(dot)com
# # #