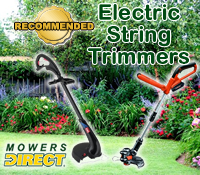 Cordless string trimmers are popular because they're light-weight, easy-to-use and you can take them anywhere
Bolingbrook, IL (Vocus/PRWEB) April 07, 2011
Today MowersDirect.com announced its recommendations for best corded electric and cordless electric string trimmers.
"Corded electric string trimmers are great for small yards where you're always close to a power outlet," said Todd Gwaltney, resident product expert at Mowers Direct, one of the fastest growing e-commerce companies in the United States. "Cordless string trimmers are popular because they're light-weight, easy-to-use and you can take them anywhere."
Most retailers are loyal to whatever electric string trimmers are on their shelves, added Gwaltney.
MowersDirect.com, however, isn't your ordinary retailer. The online superstore specializes exclusively in lawn mowers, string trimmers, lawn tools and lawn mower accessories. The site currently offers 63 string trimmers representing many leading national brands.
The online retailer combined retail prices, recent sales history, customer reviews and personal insight to generate its final electric string trimmer recommendations.
Once the dust and data settled, only 3 electric corded string trimmers and 3 cordless string trimmers sold by MowersDirect.com were given its prestigious "Recommended" status.
Top Corded Electric String Trimmers
Good: GreenWorks (13") Electric String Trimmer - 21212
Better: GreenWorks (15") Electric String Trimmer - 21052
Best: Worx GT (12") Electric 2-in-1 Grass Trimmer & Edger - WG112
Top Cordless Electric String Trimmers
Good: GreenWorks (12") 20-Volt-2.6AH Cordless Lithium-Ion String Trimmer - 21072
Better: Recharge Tools (10") Lithium Ion Cordless Grass Trimmer/Edger - GTLI-10
Best: Worx (10") 24-Volt Lithium-Ion Cordless String Trimmer & Edger - WG165
In addition, Gwaltney personally wrote online reviews for each string trimmer, explaining why the company recommended it.
By providing the recommendations and reviews, MowersDirect.com hopes to arm shoppers with enough ammunition to pick the perfect electric string trimmer for their needs.
Power Equipment Direct operates nine niche online superstores. In addition to MowersDirect.com, the Bolingbrook, IL-based company operates AirCompressorsDirect.com, ElectricGeneratorsDirect.com, PressureWashersDirect.com, SnowBlowersDirect.com, WaterPumpsDirect.com, SumpPumpsDirect.com, ChainSawsDirect.com and LogSplittersDirect.com.
###