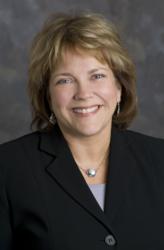 Our patients are the central focus of everything we do and this prestigious award — from one of the most respected organizations in nursing — validates that we're on the right track.
Novi, MI (Vocus/PRWEB) April 08, 2011
Gay Landstrom, MS, RN, Senior Vice President, Patient Care Services and Chief Nursing Officer for Trinity Health, was presented with Sigma Theta Tau Rho Chapter's coveted Excellence in Nursing Leadership Award in a ceremony Sunday afternoon in Ann Arbor, Mich. Sigma Theta Tau International (STTI) is the national honor society for nursing, and is the second largest nursing organization in the world. The award, presented to Landstrom by the University of Michigan-based RHO chapter of Sigma Theta Tau, recognizes nursing leaders who:

Achieve local, national and/or international recognition as a nursing leader in education, practice, administration or research;
Influence leadership in nursing through visionary and innovative approaches to leadership;
Create an environment that enhances the image of nursing
Participate in the development of nursing leaders and leadership
Landstrom is responsible for patient care services throughout Trinity Health's network of Ministry Organizations and, in that role, has led a number of quality care initiatives. She has also been instrumental in the redesign of Trinity Health's patient care delivery model and is credited for helping Trinity Health achieve a 31 percent reduction in patient falls with injury, a 45 percent reduction in pressure ulcers and an 80 percent reduction in extended stays due to catheter associated urinary tract infections following elective surgeries.
"Gay's passion for excellence and innovation is a gift to Trinity Health, the nursing profession and to patients," said P. Terrence O'Rourke, MD, Executive Vice President and Chief Clinical Officer for Trinity Health. "She has sought excellence in care from so many angles, and has worked tirelessly to mentor and coach Trinity Health's other nurse leaders, paving the way for excellence in the years to come. This award is well-deserved."
Prior to serving in her current role, Landstrom held several other important positions within Trinity Health. From 1998 to 2006, she was Chief Nursing Officer of Mercy Health Partners in Muskegon, where she redesigned the patient care delivery and care management models and helped implement a Leadership Development Institute. She also implemented processes for evidence-based nursing practice, developed an innovative LPN-to-RN, a minority RN mentoring program, and helped lead the expansion of heart and vascular services, including the Sleep Disorders Center, Weight Management program and CHF Clinic.
During her time as Vice President, Patient Care Services and Chief Nurse Executive at St. Joseph Mercy Oakland, from 1994 to 1998, Landstrom was involved in the development of the Cancer Care Center and the Joint Care Center programs, a redesign of the patient care delivery model, and the startup and expansion of an MHA-recognized Healthy Start program. She also helped develop an acute care and community based case management system.
"I am honored to be recognized," said Landstrom. "At Trinity Health, our patients are the central focus of everything we do and this prestigious award — from one of the most respected organizations in nursing — validates that we're on the right track in maintaining excellence in patient care. It's always nice to be recognized by your peers for doing the right thing."
Landstrom received her bachelor's degree in nursing from Rush University in Chicago. She earned her master's degree in nursing administration at the University of Illinois at Chicago and is currently is attending the University of Michigan, completing a Ph.D. in Nursing. She has been a member of Sigma Theta Tau since 1983.
About Trinity Health
Trinity Health is the fourth-largest Catholic health care system in the country. Based in Novi, Mich., Trinity Health operates 46 acute-care hospitals, 379 outpatient facilities, 33 long-term care facilities, and numerous home health offices and hospice programs in nine states. Employing more than 47,000 full-time staff, Trinity Health reported $7.0 billion in unrestricted revenue in fiscal year 2010. As a not-for-profit health system, Trinity Health reinvests its profits back into the community through programs to serve the poor and uninsured, manage chronic conditions like diabetes, health education and promotion initiatives, and outreach for the elderly. In fiscal 2010, this included nearly $460 million in such community benefits. For more information about Trinity Health, visit trinity-health.org or become a fan of the Trinity Health Facebook page at http://www.facebook.com/trinityhealth.
For more information, contact:
Eve Pidgeon, Manager
Corporate Communications and Public Relations
248.489.6634 (office)
pidgeone(at)trinity-health(dot)org
###