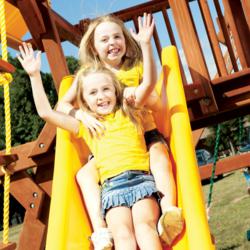 We're not just swing set manufacturers. We're parents.
(Vocus/PRWEB) April 07, 2011
Woodplay, the original redwood playset company, has launched a new blog, Wooden Swing Sets…The Backyard Blog, to give parents timely information on how they can help their children develop mentally and physically by encouraging them to get outdoors and get moving.
Warmer weather has parents looking for the biggest bang for their buck in summer entertainment, and more and more that search is leading to backyard wooden swing sets. Quality swing sets offer kids more hours each day of valuable unstructured play time – plus – swing sets offer one of the best ways to fight off the epidemic of childhood obesity that is capturing unprecedented national attention.
The numbers in the news are startling:

One in three children in the U.S. are obese.
Kids younger than 6 spend an average of two hours a day in front of a screen, mostly watching TV, DVDs, or videos. That number doubles for older kids and teens.
More children are facing chronic obesity-related health problems like diabetes, heart disease, high blood pressure, cancer, and asthma.
Woodplay's new swing sets blog lets parents in on research and news reports on why outdoor play, such as swinging or climbing or sliding is so crucial to a child's overall development.
Blog topics have included how outdoor play can lower your child's Body Mass Index, how swing sets have evolved in choices and safety and how playing outdoors can help your child get enough Vitamin D.
Woodplay is introducing the blog because parents have questions as outdoor, unstructured play has been thrust into the national spotlight, thanks in part to first lady Michelle Obama's "Let's Move" campaign and the national "No Child Left Inside," campaign being adopted in more and more states.
At Woodplay, the blog demonstrates the swing set company's commitment to helping parents help their kids.
"We're not just swing set manufacturers. We're parents," says Woodplay Product Manager Tom Ellingson. "And we believe that helping other parents find out how outdoor play can help our children grow mentally and physically is part of our responsibility as leaders in the industry."
You can find out more about how a wooden swing set can make a difference in your family's health and well-being by clicking on the blog Wooden Swing Sets…The Backyard Blog on Woodplay's homepage at http://www.swingsets.com/. Check back every few days for new information, and to let Woodplay know what's on your mind.
###