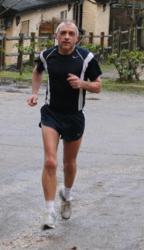 (Vocus/PRWEB) 8 April 2011
Dorchester-based Eugene, 53, aims to raise £500.00 for Diverse Abilities Plus as a result of completing the 26.2 mile course. Running along side the 35,000 other runners who are expected to turn out on the day, he hopes to complete the marathon in less than four hours.
The London Marathon has become one of the largest running events in the world. It takes place in central London and passes many of the city's major sights and attractions including Tower Bridge, the Houses of Parliament and Buckingham Palace.
Having previously run several London Marathons, Eugene knows that the atmosphere at the event will be a great motivation, and that the encouragement of the crowd will also spur him on. Looking ahead to the challenge of the marathon, Eugene said: "I cannot think of a better event in which to undertake a marathon as the atmosphere and location provide for an amazing experience! I'm delighted to be supporting Diverse Abilities Plus as I have had personal experience of 'Coping with CHAOS' and have benefitted from its fantastic and much-needed support services."
Coping with CHAOS recently joined forces with Diverse Abilities Plus, which is the only local charitable organisation that provides lifetime support to children and adults with varying disabilities.
Anyone wishing to support Eugene should visit his Just Giving page at http://www.justgiving.com/Eugene-Potter.
Helen Alexander, Fundraising Manager at Diverse Abilities Plus, said: "We are thrilled that Eugene is supporting Diverse Abilities Plus through the London Marathon and wish him the best of luck with running and fundraising.
"We are always most grateful when people undertake challenges for us, such as the 'Gold Challenge' which involves people being sponsored for trying Olympic and Paralympic sports. In fact, a marathon is an Olympic sport so could form part of someone's Gold Challenge for Diverse Abilities Plus!"
For more information about the Gold Challenge or to contact Diverse Abilities Plus please visit http://www.diverseabilitiesplus.org.uk or call 01202 718266.
Editors Notes
Diverse Abilities Plus is a charity that has been supporting children and adults with Cerebral Palsy and associated disabilities working in the County of Dorset, England for 50 years. The charity provides a range of assistance, support and education services for young people aged two to 19, adults and families. Services include:

Langside School – independent, non maintained specialist day school for children and young people from the age of two to 19 years who have PMLD (profound and multiple learning disabilities). It's one of only 19 similar SEN (special education needs) schools in the UK.
Smithers – provides overnight and day short breaks. Short breaks help families manage the challenges of providing full time care for their child. A visit can be during the day or a 'sleep over' allowing the child to make and meet friends and relax and enjoy themselves.
Shapes – provides home support (domiciliary care) for children and young people aged between two and 18 with individually tailored programs.
Project My Time – provides child-led holiday activities that give young people with disabilities the same leisure and fun opportunities that their peers enjoy.
Barnabas – a well equipped day setting for adults. Adults can learn new skills and enjoy a wide range of experiences.
Supported living – this service is for people who live in their own home but may need up to 24/7 support.
Disability Wessex - offers assistance with disability benefits for people with disabilities or chronic and acute health conditions and their families or carers, as well as the parents of disabled children.
Play Opportunities - supports families with disabled children to have a chance to get out and enjoy themselves with other families in similar situations.
Awesome Days and Awesome Nights – A youth group, set up and run by young people of all abilities, aged between 13 - 19 years.
Face 2 Face – a free and confidential network of trained volunteer befrienders, who support parents to make positive adjustments to the news that their child has a disability or additional need. Every Face2Face befriender is a parent whose own child has a disability. They know what it's like to cope with a new diagnosis and can offer support parent to parent.
The charity was founded in 1955 by Mrs Phyllis Edwards who formed a group of parent's intent on providing better opportunities for their children with physical and learning disabilities.
Visit Diverse Abilities Plus Facebook page at http://www.facebook.com/diverseabilitiesplus and follow us on Twitter at http://twitter.com/GoldChallengeDA
For more information
Contact: Zoe Hiljemark, PR Account Director / Jenny Pearce, Senior PR Account Executive
E-mail: zoe(at)marketing-matters(dot)co(dot)uk / jenny(at)marketing-matters(dot)co(dot)uk
Tel: +44 (0) 1202 777111 / +44 (0) 7770 924439
Address: Marketing Matters, Unit C, Acorn Business Park, Ling Road, Poole, Dorset, UK, BH12 4NZ
###