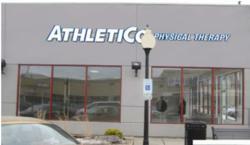 Berwyn is a growing community, so it is a perfect time to bring AthletiCo's rehabilitation services to the area.
Berwyn, IL (Vocus/PRWEB) April 07, 2011
AthletiCo Physical and Occupational Therapy, a Midwest-based provider of rehabilitation services, opens its newest physical therapy center at 6347 West Cermak Road in Berwyn. Located at the southeast corner of Cermak and Ridgeland Avenue, AthletiCo Berwyn will provide physical therapy, orthopedic rehabilitation, sports medicine, work rehabilitation, work conditioning, functional capacity evaluations, and video throwing analysis. Transportation services are also available.
Kevin Hendrix, PT, ATC, a Cicero native who has been with AthletiCo for 10 years, will serve as the facility manager for the Berwyn facility. Hendrix began his career at AthletiCo as an athletic trainer, acting as the head athletic trainer at two high schools before deciding to travel with U.S. Soccer Youth National teams through AthletiCo's athletic training outreach program. He then earned a Doctorate in Physical Therapy at Midwestern University in Downers Grove.
"Sports were an important part of my life, and I didn't want to give that up," recalls Hendrix, who played four years of baseball at Concordia University in River Forest and spent much of his childhood hanging around the West Cicero Berwyn baseball fields. "I wanted to do something that allowed me to continue being around sports, while also helping people."
Hendrix, who is also a certified performance enhancement specialist through the National Academy of Sports Medicine, thinks it is the right time to bring an AthletiCo facility to Berwyn.
"Berwyn is a growing community, so it is a perfect time to bring AthletiCo's rehabilitation services to the area," says Hendrix, who spent the past three years as the facility manager at AthletiCo River Grove. "There is a large industrial population, and we will be able to offer physical therapy and work rehabilitation services to those injured on the job. We will also be able to treat athletic injuries at the local schools and through recreational leagues."
Patients at AthletiCo Berwyn will have access to AthletiCo's industrial rehabilitation specialists, physical therapists, certified athletic trainers, and occupational/hand specialists who work with many of the local physicians in the Berwyn area. For more information about AthletiCo Berwyn or to schedule a complimentary injury screening, please contact Kevin Hendrix at 708-749-2566 or via e-mail at khendrix(at)athletico(dot)com.
AthletiCo Berwyn
6347 W. Cermak Rd., Suite A
Berwyn, IL 60402
Phone: 708-749-2566
Fax: 708-749-2498
ABOUT ATHLETICO
AthletiCo Physical and Occupational Therapy provides orthopedic rehabilitation services to communities and organizations throughout Illinois, Milwaukee, and Northwest Indiana. To demonstrate our commitment to both our patients and referring physicians, we measure functional patient outcomes and patient satisfaction with national data comparison using a third-party outcomes system.
Our services include physical and occupational/hand therapy, work rehabilitation, performing arts rehabilitation, women's health therapy, spine control classes, pediatric physical therapy, vestibular rehabilitation, and athletic training. Expanded services include performance enhancement, fitness center memberships, golf fitness, endurance, nutrition, and massage therapy.
AthletiCo accepts all indemnity, PPO, POS, and WC plans including BC/BS, Humana, Medicare, Aetna (PPO/HMO), PHCS, UHC (PPO.HMO) and many others. As a courtesy to our patients, we verify insurance coverage.
AthletiCo Toll-Free Injury Hotline 877-ATHLETICO
http://www.athletico.com (1-877-284-5384)
###