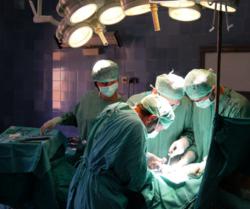 "Recognizing that dieting and more exercise don't work, the medical community has hit upon bariatric surgery as the 'perfect solution.'

Unfortunately, this procedure is neither perfect, nor a solution." -Jim Healthy
Santa Fe, NM (Vocus/PRWEB) April 11, 2011
On March 28, the International Diabetes Foundation released a position paper that touts bariatric (gastric bypass) surgery as a cost-effective treatment for obese people with Type 2 Diabetes. Jim Healthy's rebuttal was published April 7, at http://www.myhealingkitchen.com (http://myhealingkitchen.com/featured-articles/can-bariatric-surgery-cure-diabetes/)
"When we talk about whether we can afford bariatric surgery, we have to ask what will be the cost if we don't treat the patient," said Dr. Francesco Rubino, director of the IDF's 2nd World Congress on Interventional Therapies for Type 2 Diabetes. "Studies have shown the surgery to be cost-effective. So there is a return on investment."
Dr. Rubino has also attracted controversy with his claims that gastric bypass surgery is beneficial for non-obese patients with diabetes. But Jim Healthy, Health Coach of the popular websites http://www.30daydiabetescure.com and http://www.myhealingkitchen.com, believes Dr. Rubino is putting the cart before the horse by recommending such a radical treatment before trying safer, less expensive dietary interventions first.
Each year, 250,000 Americans undergo bariatric surgery – and its popularity has increased 800% in the last ten years. The surgery costs $15,000-$30,000, not counting subsequent costs of loose skin-removal surgery ($20K, not covered by insurance) and detrimental complications such as ulcers and gall-bladder removal.
Sadly, according to the New York Times, about 25% of patients do not lose weight after surgery because they don't make the necessary diet and lifestyle changes which are absolutely crucial for the surgery's ultimate success.
"This means no sugar … no fat … nothing fried or breaded or handed to you through a drive-through window. Patients aren't allowed soda, sweetened drinks, syrups and candy, or any meat other than the leanest pork and chicken," Jim Healthy clarifies. "But this diet is radical and unnecessary."
People (diabetic or not) who see bariatric surgery as an attractive option think of it as a quick fix. However, for diabetics, "The most simple, straightforward solution is to stop consuming insulin-provoking carbohydrates," says the health coach.
Before endangering their health (both biological and financial), diabetics considering bariatric surgery should give a long, hard look at the facts. They will still have to diet and exercise after surgery; the only difference is that they'll be spending close to $50,000 and compromising their health to end up with a more stringent diet than the one Jim Healthy and Dr. Stefan Ripich recommend in their highly successful book, The 30 Day Diabetes Cure.
Based on solid medical research and numerous patient success stories, the book helps readers revamp their diet and lifestyle in a simple, easy "one-day-at-a-time" format that leads to significant improvements in both Type 1 and Type 2 diabetes. This approach has completely reversed Type 2 diabetes and prediabetes in every patient Dr. Ripich has treated, while dramatically reducing insulin and other medications for people with Type 1.
# # #