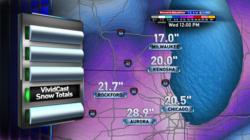 Our focus is on helping our broadcast partners capture more viewers and make an indelible impression—whether the viewer is watching TV or checking the weather from their PC, smartphone or tablet
Madison, WI and Las Vegas, NV (Vocus/PRWEB) April 07, 2011
Weather Central—provider of the most-viewed broadcast weather system in the world—announced new tools and products that empower TV broadcasters to use weather to enhance awareness of their brands and to exert control as their audiences turns to mobile and online devices. Weather Central's complete line of multi-screen weather solutions will be on display at NAB 2011, April 11-14, in booth (SU7502) at the Las Vegas Convention Center.
"New technologies are fragmenting the paths between broadcasters and audiences, so it is more critical than ever that a broadcaster's brand take center stage," says Weather Central president Bill Baker. "Everything Weather Central offers links directly to the broadcaster – you will never find self-serving co-branding in our weather output. Our focus is on helping our broadcast partners capture more viewers and make an indelible impression—whether the viewer is watching TV or checking the weather from their PC, smartphone or tablet."
Weather Central helps broadcasters address all the steps in creating a multi-screen brand:
First -- Create a unique look
One of the essential elements of branding is to have a dynamic, readily identifiable look. New Weather Central Fusion Studio™ enables broadcasters to put their own unique stamp on their weather presentations. This integrated 3D creation software package eliminates the time and resource consumption associated with high end 3D graphics and enables the on air meteorologist to directly interact with on-screen 3D elements—including multiple light sources, texture and data mapping to 3D objects— in real-time to create the most dynamic weather story possible.
Second – Cross the bridge to multiple screens.
New Forecast Tailor™ is a powerful forecasting tool that ensures a consistent user experience across multiple platforms. Meteorologists have the ability to tailor their forecast with remarkable precision and then automatically publish one forecast on-air, to their web sites, mobile platforms and other display devices.
Third – Remember that no matter the screen, weather still leads
The moves to online and mobile devices have only reinforced the pre-eminence of weather as the leading driver of audience's attention. A recent survey released by the Pew Internet & American Life Project found that "nearly half of all Americans (47%) now get some form of local news on a mobile device. What they turn to most there is news that serves immediate needs -- weather, information about restaurants and other local businesses, and traffic."
Weather Central offers its broadcast customers numerous solutions that they can fully brand with their identification, that enable them to reinforce their relationship with viewers on the go.
New for NAB are:

Connected TV –weather app for Internet-connected TVs.
Weather 360™ – for iPhone, uses GPS, compass and live weather data to give consumers precise distance to fast-moving weather.
Go Time™ – web app calculates drive times by analyzing traffic and weather information, and then recommends the best time to start their drive.
WeatherNOW™ – a comprehensive weather app for iPhone, iPad and Android devices that delivers geo-located radar and weather info, push alerts, local station video, as well as Weather Central's exclusive FutureCast® and iFactor™ information.
When Will It Rain?™ – for web and iPhone, uses industry's only 1km resolution forecast data to predict how long it will be before precipitation reaches the user.
Weather Central is the only weather vendor that has direct Facebook and Twitter integration built into its on-air solutions, for one-step publishing to followers.
For a complete look at Weather Central's solutions for on air, online and mobile weather presentation, visit http://www.wxc.com.
About Weather Central, LP Weather Central, LP, founded in 1974 by broadcasters and meteorologists based in Madison, Wisconsin, is the leading provider of professional on‐air, online, print, mobile and enterprise weather solutions and forecasting in North America and to major customers worldwide. Utilizing the Company's dynamic weather graphics, precise forecast models and data, and patented technology, more than 1000 partners and hundreds of millions of consumers worldwide benefit from Weather Central's attention to weather presentation, detail and insight.
© 2011 Weather Central, LP, Madison, Wis. All rights reserved. Product specifications and availability are subject to change without notice. Weather Central LP, :LIVE, GENESIS:LIVE, 3D:LIVE, ESP:LIVE, Weather Central MagicTRAK, LiveLine GENESIS, A.D.O.N.I.S. MicroCast, A.D.O.N.I.S. FutureCast, StormSentinel DV, WxWarn2, ScreenWRITER, SportsWRITER, SimulCAST, X‐Vision, Storm Vitals, TelePath, RainVision, SnowVision, FunnelPATH, CellPATH, HailZONE, GustZONE, MessoPATH, Always‐On Training, Instant Mapping and WxPoint are either registered trademarks or trademarks of Weather Central LP.
All other trademarks contained herein are the property of their respective owners.
# # #