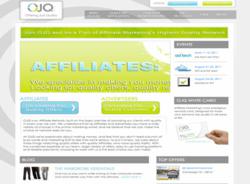 At OJQ, we're not trying to reinvent the wheel, were simply trying to put out a better quality product than anyone else in the industry. We insist on Offering Just Quality in everything we do."
Vancouver, British Columbia (PRWEB) April 11, 2011
OJQ Affiliate Network launched their exciting new website yesterday, aiding in their steady climb up the ranks in the Affiliate Marketing world. With complete changes to site structure and content, complimented by the addition of a rewards program and new affiliate marketing blog, the new site appropriately targets advertisers and affiliates alike.
Company Co-Founder, and Director of Operations Jeff Hall states "We felt that it was time to update our online image to reflect our company's current achievements and future goals. We work with a highly skilled affiliate base and felt that they would be better served through the addition of relevant value added features. We also hope to use the website to leverage new partnerships with advertisers. At OJQ, we're not trying to reinvent the wheel, were simply trying to put out a better quality product than anyone else in the industry. We insist on Offering Just Quality in everything we do."
OJQ was started in 2009, and currently has offices in Vancouver, British Columbia and Detroit, Michigan. They are an Affiliate Network with a large base of publishers, and unique top performing offers. When working with OJQ, all progress can be tracked via their real-time tracking platform, and they have been known to employ some of the most knowledgeable Affiliate Managers in the industry.
# # #